Bolla Srinivas Reddy
By South Asian Art Gallery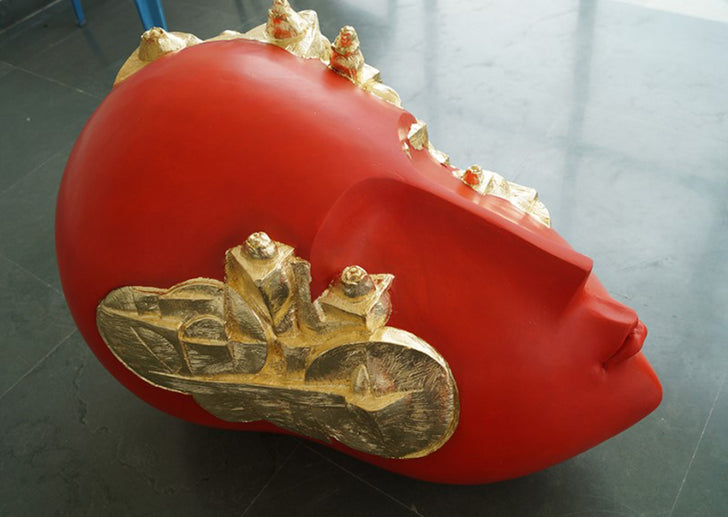 Sculptor, painter, Principal of a fine arts college, National award winner, contributor to the beautification of Greater Hyderabad… these are just a few of the things Bolla Srinivas Reddy is.
His current engagement is his concept called 'Swayambhu'. He has been struck with the concept for a while and has kept it alive through time by creating sculptures and drawings based on the singular idea of Swayambhu which he explains as the 'Genesis of a creative impulse '. He drew and sculpted whenever the concept tugged at him and now his list is complete. For Srinivas Reddy, Swayambhu is existence; it is the self-manifestation of the omnipresent Brahman; it is the birth of a creative force and genesis of emotive expressions.
There are many physical and psychological entities Reddy's Swayambhu touches upon. The Sanskrit phrase 'svayambhavatiastiitisvayambhuh' which confirms 'self-birth' from a golden egg (hiranyagarbha) or a universal germ could be taken as one. The Rig Veda also elucidates the aspect of the self-manifestation, where the creator of the universe manifested 'Himself', before actually initiating the creation of the whole world and infusing life into all sorts of things. Also, according to Matsyapurana the swayambhu, as a form beyond senses, entered into the egg when everything else was static. Reddy has featured the concept through drawings, sculptures and paintings created over a period of time. The womb or egg is a recurring element in all his representations of the concept. His creations spark conversations, thoughts and point to an innovative visual dialect. The paintings, sculptures and drawings narrate complex pictorial fictions, unusual paradoxes and tender satires. The creations are always human heads – some silent, some in conversation mode, some with the face turned to the sun, reflecting or pondering. The motif of the head is symbolic of the mind of knowledge and face for identity. The multiple layers of colours do not strain the eye instead, it feasts the eye to a brand new experience of form, culture, symbols of birth and enrichment, a chronicle of human activity and thought-process. What stands apart in every one of his creations is his versatility and advanced technique and understanding of various media.
Reddy's realization of the law of nature and his inclination to Indian thought is evident in his artworks. The hefty egg-shaped heads, often facing upward, by and large, represent the initiation of the core of the world and contemplating to submerge into the very world itself. Within the confines of his heads, he configures basic cosmic elements metaphorically, deriving a line of thought combining the physical and the metaphysical.
 To see artworks by Bolla Srinivas Reddy, click here
EDUCATION
1986 Diploma in Sculpture at JNTU College of Fine Arts, Hyderabad (Gold Medal)

1987-88 Worked and resided at Kanoria Centre for Art, Ahmedabad
1990 Post Diploma in Sculpture at Faculty of Fine Arts M.S. University, Baroda
AWARDS
2004-05 National Award, Lalit Kala Akademi Government of India

2002 Camlin Art Foundation Award (Painting)
1998 Telugu University Awards, Hyderabad
1995-97 Junior Fellowship, Department of Culture Centre Govt. of India
1997 AIFACS, Andra Pradesh
1995 All India SCZCC Nagpur
1992 Hyderabad Art Society, Golden Jubilee Year
1998-90 Telugu University Scholarship, Hyderabad
1988 Gold Medal, Hyderabad Art Society
1986 Gold Medal, JNTU Univerity, Hyderabad
ACTIVITIES
Conducted International Sculptors' Symposium-2012

National- Scrap Welding Camp- 2012 and Young Artists
Share this