Get More Information about the Art.
S. H. Raza
Maa
We provide a Certificate of Authenticity with all artworks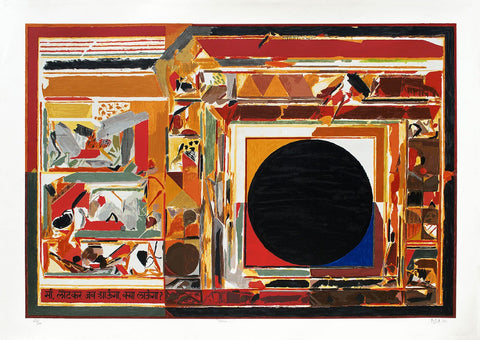 About the Art
Limited Edition Serigraph printed in 37 colors on archival paper. This serigraph was published in an edition size of 100. This item will be shipped unframed, in a roll. The paper size is 60 x 85 inches, image size is 52 x 76.5 inches. The print is signed by the artist and comes with a certificate of authenticity.

"I was inspired to conceive a painting which could be a letter to my mother country, India, revealing my experiences, discoveries, and acquisitions. I hoped that the painting could be evidence that I was never cut off from my sources. The memories, conscious and subconscious, were ever-present."– Raza.

This work, done in 1981 suggests a blend of Raza's two distinctive styles of paintings, one being his gestural brushwork, and other being his Abstractionism.

Here a large black Bindu occupies the central space in this work, surrounded by volatile, vibrating colors as in medieval paintings from Rajasthan. Further, a wide spectrum of warm colors, such as ochre yellow, saffron, burnt sienna, pale greens, and greys, etc, are a collective narrative of the palette of India. It should also be noted that although Raza was interested in and knowledgeable about French poetry, the words of poetry from India are the only objects, verbal artifacts, which he allowed to exist in his works, like the words inscribed at the bottom left of this work.

Maa laut kar jab aaunga, kya launga?