Get More Information about the Art.
S. H. Raza
Duality
We provide a Certificate of Authenticity with all artworks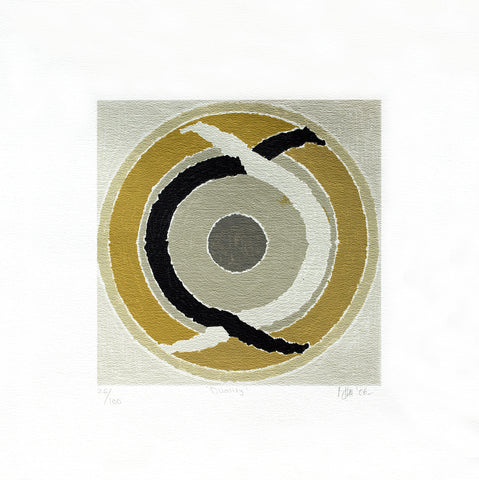 About the Art
Limited Edition Serigraph printed in 30 colors on archival paper. This serigraph was published in an edition size of 100. This item will be shipped unframed, in a roll. The paper size is 20 x 20 inch, Image size is 12 x 12 inch. The print is signed by the artist and comes with a certificate of authenticity.

This work loosely revolves around the theory of Intertwined Twin Kundalini Serpents. The two serpents intertwine as a symbol of the relationship between two opposites: the sun and the moon, mother and father, male and female entities that sustain the cosmic cycle of birth, death and rebirth. Further a dot inside a circle expresses male and female polarity. In Hinduism, the midpoint in a circle is the Bindu- a spark of life (masculine) within the cosmic world (outer circle). The female entity here is the cosmic world as a female force is considered to be the ultimate bearer of life, and the purusha just participating.

The concentric rings inside the outercircle could also be symbolic of the thriving of the bija with potential germination of life, in its right environment, the outer circle which is symbolic of the womb.