Anamika V
By South Asian Art Gallery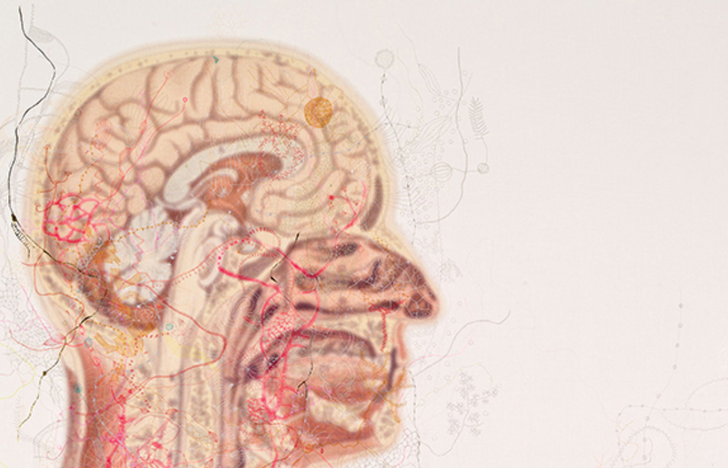 People who know Anamika, the artist concur on one thing – that she does not attempt to create an artificial divide between art and craft. Her art is graceful and deep, like her. And her renditions are eye-openers at different levels, breaking away myths about the mixing of different media, the amplitude of strokes, the use of color, texture, pattern and above all, concepts. Observing her two completely different series, 'I see what I draw' and 'More Than Once', which have one underlying concept is probably the finer way to understand her craft.
The 'I see what I draw series' is a personal journey. She describes her journey thus: "Trying to see how I am linked to this world around, the time and space which connects me to the 'other' in million ways, it's the happening which counts the most, the only choice is to participate in it, layers and layers of 'details', admiring the subtle fragile attributes of how everything is constructed, the fascinating mystery it possesses with a specific purpose… drifting along… and its traces of it in my work."
Her 'More Than Once' is a work inspired from, one among the many aspects of our religious rituals- 'Chanting'. Chanting a particular verse or a word, a mantra many times, which unconsciously penetrates into one's self, and becomes a part of them by course of time. Chanting is done to efface the 'I' and become one with the universe. Concentrating on the chant and the repetition allows one to travel from the mere surface to various depths, which as an act itself is a very powerful one. Her pick for a body for her chanting (repetition) is the dot. She explores, inserts, extends, applies and extrapolates the dot to the various objects and scenarios she sees in this world – material, people, emotions…just to name a few. The artist has created for herself innumerable possibilities of successfully rendering her idea of the chant by involving various media.
Both of these series of works have one central theme – it is a journey of self-discovery but look quite different at first glance. An in-depth analysis can help the viewer see the content and the conversation Anamika creates through these pieces.
Widely exhibited, winner of several awards and has made it to eminent private and public collector's homes and workspaces worldwide, Anamika is an artist who can hold her own among her contemporaries on an international platform. The roots and character of her pieces are distinctly Chennai school but with a variance that is the sole proprietorship of the artist. Her uncanny ability to move from broad strokes to minute dots, from an avalanche of colors to meditating on a single hue quite remarkably and unexpectedly is what lends her art voice and freshness. The unpredictability in her art can keep the viewer engrossed for a very long time.
To see artworks by Anamika V, click here
SOLO SHOWS
2010 'more than once', Focus Art Gallery, Chennai

2007 'Transfer', Alliance France, Chennai
2006 'Tune in 96.6', Alliance France, Chennai
2005 'Sum Of Infinity', Alliance France, Chennai
1999 'Sum of Infinity', Lalit Kala Academi, Chennai
1999 Whistle Stop Cafe, Chennai
1997 International Airport Authority of India, Chennai
GROUP SHOWS
2015 I RISE, ArtHouz, Bangalore

2014 Small format show, Gallery Sumukha, Bangalore

2014 Dialogues with the Self. Portrait Project, New Delhi
2014 55t National Exhibition of Art Award-Lalit Kala Akademi. New Delhi
2013 Madras Musings, Veda Art Gallery, Chennai
2010 Chennai revisited, Noble Sage Art Gallery, London
2007 Sumukha Art Gallery, Chennai
2007 "art equalated", India habitat center, New Delhi
2000, 2001, 2003, 2004, 2006 National Exhibition of Art, Lalit Kala Academi
1997, 1999, 2000, & 2001 Adogi International Exhibition of Mini prints, Spain
1997 Ovia Nunkalai Kuzhu Young Artists Exhibition with GCAC, Chennai
1997 All India Fine Arts & Crafts Society Collaborating with Lalit Kala Academi, Chennai
1995 – 2001 Tamil Nadu Ovia Nunkalai Kuzhu Annual Exhibition of Arts, Chennai
1997 Zipzoom a four Man Show at Saga Art Gallery, Chennai
1996 Maxmuller Bhavan, German Consulate, Chennai
1996 Regional Art Exhibition, Chitra Kala Samsed, Machilapatnam, Andhra Pradesh
1996 Arrikamedu Art Academy 4th South Zone Level Art Exhibition Committee. Pondicherry
1995 6th All India Fine Arts Exhibition, Chitra Kala Parished – Karnataka
1995 Victoria Technical Institute
AWARDS AND HONOURS
2014 National Award-Lalit Kala Akademi
2013 Arnawaz Vasudev Charity Scholarship
2011 Audi Ritz icon Award, Chennai
2010-11 Charles Wallace India Trust Award. Visiting scholar to UK
2006 Visiting artist award for printmaking residency at Edinburgh printmakers studio
2002 Award for excellence, Yalli Art Foundation, Chennai
2000-2001 Lalit Kala Academic Scholarship for Young Artist
1999 Executed a Painting representing Thirukkural for Tamilnadu Govt., Chennai
1998 Ovia Nunkalai Kuzhu, one-man show Grant
1997 Ovia Nunkalai Kuzhu award, Chennai
1997 Ovia Nunkalai Kuzhu Young Artists Exhibition with GCAC Chennai
1997 All India Fine Arts & Crafts Society with Lalith Kala Academi, Chennai
1996 Regional Art Exhibition Chitra Kala Samsed, Machilapatnam, Andhra Pradesh
1996 Arrikamedu Art Academy 4th South Zone Level Art Exhibition Committee, Pondicherry
1995 6th All India Fine Arts Exhibition, Chitra Kala Parished – Karnataka
ACADEMIC ACHIEVEMENTS
2010-11 Enameling, UWE, Bristol, Charles Wallace India Trust Award

2006 Japanese Woodblock printing, Edinburgh printmaker's studio, Edinburgh
2005 Care of museum object, Chennai Museums, Chennai
1999 Master of Fine Arts- College of Fine Arts Madras University, Chennai
1997 Bachelor of Fine Arts College of Fine Arts Madras University, Chennai
Share this