B. Venkatesan
By South Asian Art Gallery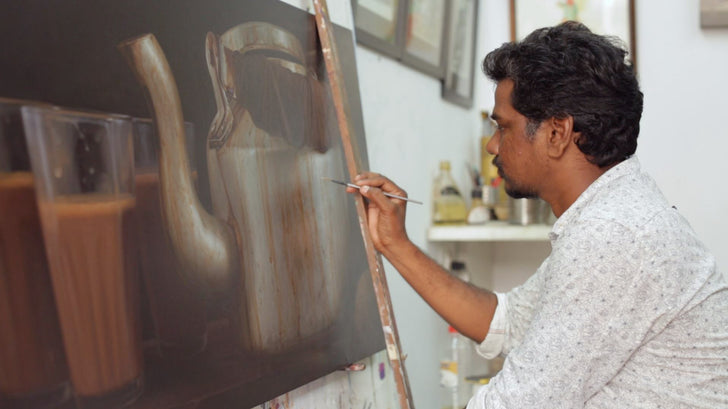 Venkatesan is a self-taught artist hailing from Chennai, Tamil Nadu. Venkatesan sees art in people, articles, and places that others around him pass up for the mundane. According to him, everyday life is what completes the bigger picture.  
Venkatesan's first muse inarguably is nature and his immediate environs. He once said drawing those exact things made him feel complete. Nature is his primary teacher and the main source of inspiration for his works. As much as he learned from the luminaires in the field of art, he claims to have learned from nature – angles, the play of light, the movement of water, human body… 
Venkatesan is a realistic artist. He recreates images from memory or references, as one would see them in real life. The degree of reality in every canvas he finishes is uncontested. His student-like his attention to painting belies the fact that he is actually quite the master artist. What he can achieve with the play of light in his works has only so far been observed in the likes of Vermeer and Rembrandt. Venkatesan's works carry that unmistakable touch of yellows, ochre and gold. 
A self-taught artist, Venkatesan says, "While my themes maybe mundane to the viewer, it is 'life as it is' that I paint. To others, those instances or activities may be commonplace, but I want to preserve some of those memories with my art. My art could tell you a lot – where I have been, the people I have met and circumstances I have come to pass, and so on." 
To see artworks by B. Venkatesan, click here
GROUP SHOWS 
2019 21st Annual Boston International Fine Art Show, Boston, USA 
2017 India Art Fair 2017, Delhi, India 
2014 Eighteenth Annual Boston International Fine Art Show, Boston, USA 
2014 SIGNATURES, Boston, USA 
2013 Ethnic Concurrence, Fall 2013, Boston, USA 
2013 New England American India Foundation Gala 2013, Boston, USA 
Share this