Debashish Kulay
By South Asian Art Gallery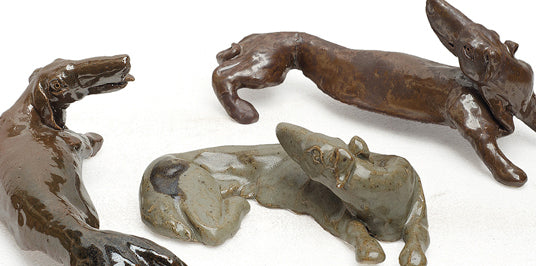 When Debashish Kulay carves, nature and metal just pave the way to recreate nature's pets in his hands. His conceptualisation and hand skills are beyond the ordinary. For an upcoming artist, he has taken many leaps ahead than most already. The sculptor's unique centrepieces and table décor have had artists and critics sit up and take notice. Debashish Kulay holds a masters in fine arts from Visva-Bharati. Simple, down to earth and unassuming, Kulay has a boyish charm about him. But when he puts his tools to metal his demeanour changes to the sophisticated authority on how every facet of his sculpture should turn out to be.
What comes out more in Kulay's works are how observant an artist he is. The expressions on the face, the small twists or stretching of the torso and limbs, the imperfectly perfect curvature of the bodies… Kulay exercises a freedom that gives life-like emotions on the faces of these sculptures. There are dogs with craned necks looking up as though curious about the onlooker or trespasser, there are goats that are scrutinising your every move as if you just walked in and disturbed their afternoon siesta. The sculptures have no induced meanings. They are what you see them to be.
For a moment it is easy to forget that you are in the presence of a miniature carving when you look at Kulay's works. You will find yourself thinking of potential scenarios where those animals have been and came from or those sheds, streets, tree shades and kennels they have been at. You will catch yourself petting one of those lovely creatures. You will wonder what conversations they have when the goats sit down together and chew the cud or when the dogs assemble for a howling party.
Kulay's sculptures will connect you back to the animal lover in you and take you one step closer to living in harmony with the other species that share the planet with us.
To see artworks by Debashish Kulay, click here
Share this