Ravindra Kumar Kumawat
By South Asian Art Gallery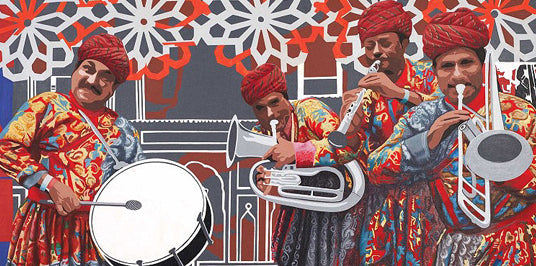 The recurrent theme in Ravindra Kumawat's bodies of work is globalisation. He paints what he sees around him – people at the bottom of the pyramid struggling to make ends meet in a globalised market.
His paintings are of people we meet every day but do not acknowledge amidst our busy lives. They are about people who make our life easier by working for us. The rich-poor divide, the high contrast between glamour and simple living are deconstructed from their environs and reconstructed in his canvases. The specialised effects,geometric patterns and textures Kumawat uses gives plenty of strength to his characters which are purposefully kept modest.
Kumawat chooses to showcase the hardworking lower class struggle for the basics on a daily basis. But there is no conflict either in his characters or in the paintings as a whole. His characters are at peace in their own space, going about their daily routine. You can see it in the dignity of the rickshaw puller, the tranquillity in the faces of the band players, the casualness of the coolies carrying heavy luggage, the innocence in the faces of young boys and girls who sell toys and other things at traffic signals…
He presents the blue collar worker without any expression of resentment that is usually attached to such references. His works while portraying their lives is not about their sufferings but a reminder of the wilful survivors that exist and share in our very globalised world.
To see artworks by Ravindra Kumar Kumawat, click here
EDUCATION
2012 Master of Fine Art (MFA), University of Rajasthan, Jaipur

2010 Bachelor of Visual Arts (BVA), Rajasthan School of Art, Jaipur
SOLO SHOWS
2013 Online Solo Show by Indian Art Collectors
GROUP SHOWS
2014 A Month of Residency at Art 4 All Open Day Exhibition Sanskriti Kendra, New Delhi
2014 Research Grant Scholarship Exhibition, Lalit kala Academy Regional Centre, Lucknow
2013 AIFACS 86th Annual All India Art Exhibition New Delhi
2012 Light of Bliss, I.C.A Gallery, Jaipur
2011 "Art 'n' Mart" Painting Exhibition, Artphli Art Gallery, Bhilwada
2011 Group Show of Emerging Artist of India J.K.K in Jaipur
2010 Autumn show, I.C.A Gallery Jaipur
2009 Student Annual Art Exhibition, Lalit Kala Academy, Jaipur
AWARDS
2013 Aranya"Reflection of Another Day", Kolkata

2012-13 Research Grant Scholarship Given By, Lalit Kala Academy, New Delhi
2012 15th Kala Mela Cash Award By kalaneri Art gallery, Jaipur
2011 14th Kala Mela Award by Rajasthan Lalit Kala Academy, Jaipur
2009 - 2012 Scholarship by Lalit Kala Academy, Rajasthan, Jaipur
2009 State Student Award in 29th Annual Art Exhibition By Rajasthan Lalit Kala Academy, Jaipur
2008 'V.S Wakankar Gold Medal Award' National Art contest Kalavart Nays, Ujjain, M.P
Share this