U Marlar
By South Asian Art Gallery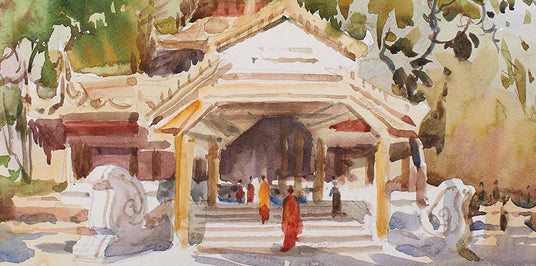 The son of farmers, U Marlar was born in 1953 in Nandawkyun Village, Upper Myanmar.  A graduate of the State School of Fine Arts, Mandalay, he studied under masters: U Kan Nyunt, U Aye Kyaw, U Kyaw Lay, U Tin Aye, U Zaw Win and U Win Maung.
U Marlar's paintings often focus on historical locations in Myanmar as he has a keen interest in archaeological research. The artist spent nine years (1976-1985) working in the Department of Archaeology. He later moved to the Sounder School of Textile, where he was an instructor of Art and Design. From 1988-1999, U Marlar was an Art Instructor at the Mandalay State School of Fine Art, after which time he decided to leave teaching and focus entirely on creating art. However, from time to time, he is still invited as a guest lecturer and old master at the Mandalay State School of Fine Art and the University of Art and Science.
His works have a wonderful maturity, serenity and composure about them, much like his approach to life. Marlar's signature landscapes of historical sites in Bagan and Mandalay are filled with intricate touching details and a quiet authenticity.  His penchant for historical landscapes and portraits of rural life and community in both watercolor and oil provide a unique view of a bygone era of Myanmar life as well as an idiosyncratic historical record. Much respected nationally and internationally, his works are in Myanmar National Museum and in collections worldwide.
U Marlar's favourite medium is watercolor at which he excels.
To see artworks by U Marlar, click here
Share this