Zwe Yan Naing
By South Asian Art Gallery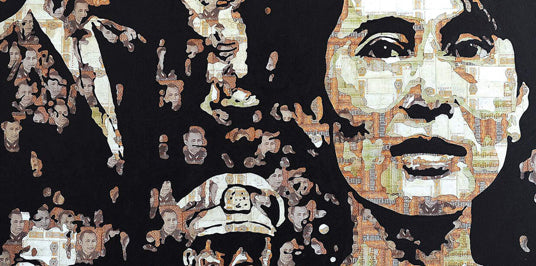 Zwe Yan Naing was born in 1984 in Taunggok, a river town in Rakhine State.
He moved to Yangon to study at the State School of Fine Arts. Zwe Yan Naing has had numerous exhibitions in Myanmar but has also shown his art in Brighton, Seattle, Amsterdam, Bangkok, and Hong Kong. His first solo exhibition was held in 2012 at the Pansodan Gallery.
The paintings that Zwe Yan Naing is best known for are those showing a Burmese girl with thick patches of thanakha on her cheeks. It is a girl who appears in his dreams, and each time urges him to paint more. And so he has continued to paint her over and over again.
But apart from this outstanding series, Zwe Yan Naing has also created a variety of other paintings that differ in style and technique, many of them carrying a political or social message. As well, he has combined old currency notes with paint to make a series of political collages that comment on value, culture, religion, and leaders.
To see artworks by Zwe Yan Naing, click here
Share this