Get More Information about the Art.
S. H. Raza
Bindu
We provide a Certificate of Authenticity with all artworks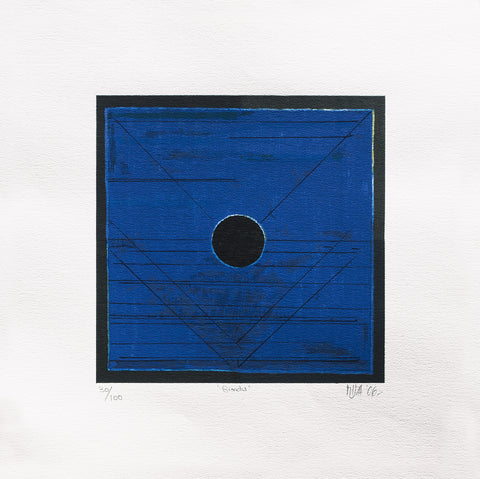 About the Art
Limited Edition Serigraph printed in 30 colors on archival paper. This serigraph was published in an edition size of 100. This item will be shipped unframed, in a roll. The paper size is 20 x 20 inch, Image size is 12 x 12 inch. The print is signed by the artist and comes with a certificate of authenticity.
For Raza, Bindu is in visual art what Aum is in India music. Time and again, he found himself coming back to nature and its expression, not in ways that the eyes see, but to its very core being – the Seed, the unit which contains all essential potentialities that can develop in the course of time in the life of plants, animals, humans. Here the black circle signifies the 'bija' or 'beej' – the life giving source and the starting point of creation.
Further the faint lines forming the recurring inverted triangles and the placement of the bija between them represent the womb, female fertility, evoking the budding of a plant from the seed.