Get More Information about the Art.
M. F. Husain
Ganesh
We provide a Certificate of Authenticity with all artworks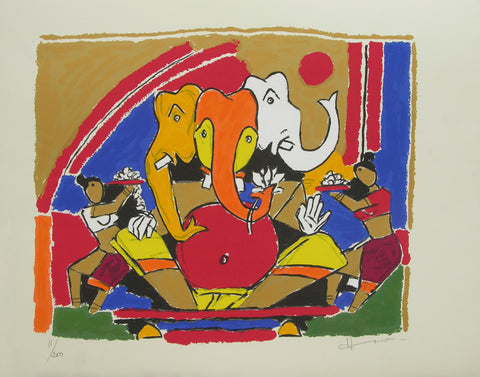 About the Art
M.F. Husain marked the ceremonial beginning of his Indian Civilization series by painting the Hindu deity Ganesha. Known as the remover of obstacles and a patron of the arts and letters, this rendition of Ganesha by Husain is striking, poignant and one of our most beloved pieces.

Limited Edition Serigraph printed in 16 colors on archival paper. This serigraph was published in an edition size of 200. This item will be shipped unframed, in a roll. The paper size is 22 x 28 inch and the image size is 18 x 22 inches. The print is signed by the artist and comes with a certificate of authenticity.