Dhiraj Choudhury
By South Asian Art Gallery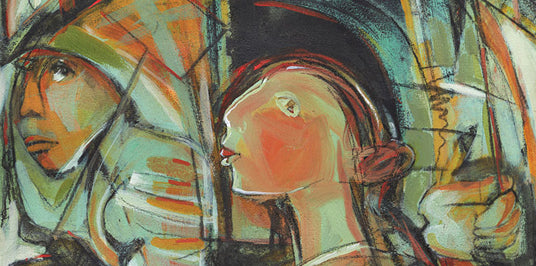 If he could draw as a newborn, he would have. Born right into the middle of India's struggle for freedom in Amara Bangla (eng. Bengal), even as a child, Dhiraj Choudhury absorbed the realities of life in those tough times including the great Bengal famine of 1943.
Revolutionaries like Khudiram Bose, Aurobindo Ghosh, Rasbihari Bose, Subhash Chandra Bose inspired his thoughts of a contemporary India, a mould where everyone will be equal. What you see in his works are narratives of socio-political situations of contemporary India. Every work of his is a play in progress, the characters living their part on his canvas. The dynamic choreography allows neither the subject nor the viewer to rest.
His restless line speaks volumes, defying tradition, breaking past iconographic niceties. Provocative, agile and with a pinching sense of humour Choudhury's subjects and scenarios could play in your head, long after you have left their presence.
He delivers as if he is challenging the viewer's ability to see what he sees. He's not one for pensive moods, pacifist situations, lulling of conscience or dulling of senses. For him, it is all about inviting you to witness a soul-shaking, nerve-rattling play.
He has been Professor of Art in Delhi College of Art. His students are a wealth to the nation and to the world of art itself. Choudhury has to his credit over 75 solo shows conducted in India, France, Switzerland, England, USA and Singapore. His Saga of India's freedom struggle is a collection to remember. So is his "Pain, Women and Clown", 1995, at Birla Academy of Art, Kolkata. His works are part of the prestigious collections at National Gallery of Modern Art, Lalit Kala Academy, Rashtrapati Bhavan, embassies of Belgium, Australia, Netherlands, and Singapore etc. and quite a few private collections at home and abroad. His awards tally stand at over 15 big ones.
Dhiraj Choudhury could well be your gateway to watch human dynamism and perseverance unfold in a pictorial statement of sorts.
To see artworks by Dhiraj Choudhury, click here
EDUCATION
Darjeeling Govt. College. Govt. Art College-Calcutta Delhi Polytechnic-Art Dept Delhi.
TAUGHT
College of Art New Delhi, University of Delhi. Retd. as Professor of Painting 1996. Initiated few groups and art activities Involved with various social and educational causes.
ORGANIZED
Over 100 Solo Exhibitions in India, England, USA, Germany, Switzerland, Singapore, France. Works are in the collection of Victoria and Albert Museum UK', National Gallery of Modern Art, New Delhi. President's House. Received several awards including National Award... Participated in an international group show in Geneva 1979 with Miro, Dali, Calder, Cavalli, Pozzi, Sugai
SELECTED EXHIBITIONS
1960 Sketches and watercolours, Coffee house, Calcutta. 
1970 Coloured ink on paper, Triveni Gallery, New Delhi.
1972 'Journey from New Delhi to Kashmir', Srinagar.
1971 'Bangladesh', New Delhi, Bombay, Calcutta 
1979 "Child" New Delhi, Calcutta, London.
1985 "Youth" New Delhi, Calcutta
1990 Drawing, Sanskriti Art Gallery, Calcutta
1991 Three Decades of Drawing, Art Konsult, New Delhi
1993 Banalata Sen, Metropolitan Gallery, Kolkata
1996 South of France Art Consult New Delhi
1998 '50 years' struggle for freedom LKA, New Delhi
2001 'Water Colour 1955-2000', Art Konsult, New Delhi
2001 Time & Space Gallery, Bangalore, Art World, Chennai
2007 Works on paper, Time & Space Gallery, Bangalore.
2007 K2 Gallery Kolkata, Shrishti Gallery, Hyderabad.
2009 'Call of Contours' Wood & Bronze, Bangalore & Delhi and Published book on wood and bronze
FOUNDED
Line, a group devoted to Drawing / Forum 91 / Artists Forum / Quartet Artists, First Women's group. Organized Art Camp on Drawing, painting, Sculpture
PUBLISHED
Books Reproductions and Portfolios on drawing/watercolour/print.
Share this