Jagdeep Smart
By South Asian Art Gallery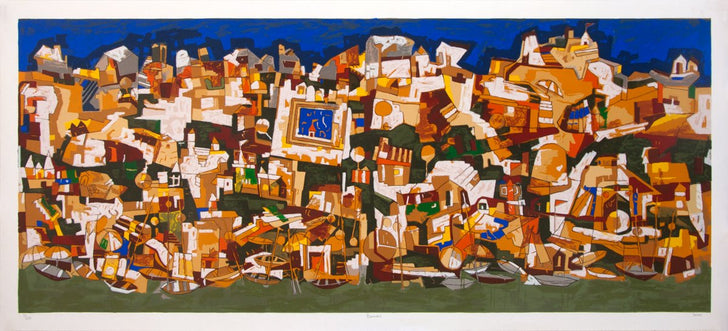 Jagdeep Smart, heir to the legacy of his artist father Vasudeo Smart, was born in Surat, Gujarat, in 1956. He completed his Master's degree at the Faculty of Fine Arts of the Maharaja Sayajirao University, Baroda, and later served as a professor of Fine Arts at Veer Narmad South Gujarat University. A poet as well, Smart is known for his translation of M.F. Husain's biography into Gujarati, published as 'Dada no Dangoro Lidho'.

The artist conducted several workshops on art education, puppetry, and drawing. For the most part, Smart's works center on the traditional puppetry of his state, as he liked to use puppets as a metaphor to illuminate human beings navigating their lives and destinies. Through these paintings, known popularly as his puppet masters series, and his other work the artist added to the vibrancy of Surat's cultural canvas.

An active promoter of young talent, Smart also encouraged annual week-long art festivals for youngsters to display their skills. Since the early 1980s, the artist has exhibited his work in several solo shows in Gujarat and across the country. Over the course of his career, the artist received several awards including the Kalidas Academy Award, Ujjain, in 1978 and 1979; awards from the Gujarat Lalit Kala Akademi in 1968 and 1985; and an award for painting from UNICEF, Geneva, in 1972. The artist passed away in 2009.
To see artworks by Ajay Chowdhary, click here.
Share this