Jatin Das
By South Asian Art Gallery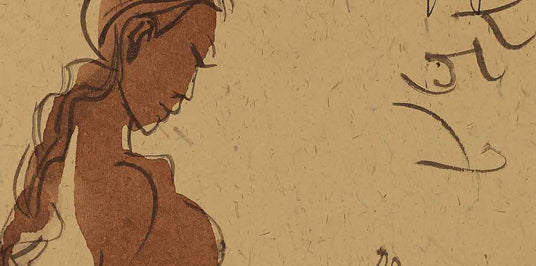 Jatin Das is counted with reverence among India's contemporary artists. Das shines like the northern star in the various venues of artistic expression be it painting, graphic art, sculpture, murals or even poetry. In 2012, he was conferred the Padma Bhushan, India's highest civilian award by the President of India for his contribution to art. His national and international art shows and artist camps are much awaited and find overwhelming attendance. His works have made it into the homes and spaces of some popular collectors and art lovers in India and abroad.
Das's paintings are of people. His love for the human form finds dynamic ways of expression under his watchful eye and gifted hand. His paintings are chiefly of man-woman relationship. At times the paintings speak crisis, at times, mere contact progressing to disclosures, emotional tensions, and the many other myriad of human expressions. Jatin Das also has a rather pet hobby – collecting pankhas (hand fans). He started 28 years ago and today owns over 6500 fans and related objects, a majority of which are from the Indian subcontinent. The collection will eventually be housed in a National Pankha Museum in New Delhi. A book on the subject, 'To Stir the Still Air' is expected to be published very soon.
When one talks about Jatin Das, it is incomplete without a mention of his philanthropy. He liberally donates to charities in India and overseas. He is noted for his active relief and rehabilitation work of a village in Orissa after the super cyclone in 1999. Jatin Das lives and works out of New Delhi, India.
To see artworks by Jatin Das, click here
EDUCATION
Sir J.J. School of Arts, Bombay
SELECTED SOLO SHOWS
2011 Galleri Astley, Uttersberg, Sweden
2011 Red Art Gallery, Collaboration Gallery Art & Soul, Baroda and Mumbai
2010 Museum Gallery, presented by Gallery Art & Soul, Mumbai
2009 The Artists Alley Gallery, San Francisco, USA
2007 Jehangir Art Gallery, Presented by Art & Soul Gallery, Mumbai
2006 1x1 Art Space, Dubai
2005 Archaeological Museum, Thessaloniki, Greece
2002 Retrospective: 40 years of Drawings, AIFACS, Delhi
2001 Art Today (C.P.), New Delhi
1995 Jehangir Art Gallery, Bombay
1994 A Retrospective: Government Museum and Art Gallery, Chandigarh
1993 Heads, Le Corbusier Art Gallérie, Alliance Française, Chandigarh
1992 "Woman of Clay" AIFACS galleries, New Delhi
1992 Tribhovandas Bhimji Zaveri Presentation, AIFACS, New Delhi
1986 Birla Academy of Art and Culture, Calcutta
1987 Jehangir Art Gallery, Bombay
1985 Times of India "Man and Woman". Shridharini Art Gallery, New Delhi
1979 Hutheesing Visual Art Centre, Ahmedabad
1978 Arts 38 Gallery London
1977 Frainsherm an der Weinstrasse, Surya Gallery, West Germany
1976 Kumar Art Gallery, New Delhi
1975 The Garden Gallery, Loughborough, UK
1975 Schloss Bellevue, Kassel, West Germany
1975 Bharat Verein e.V., Frankfurt, West Germany
1974 Shridharani Art Gallery, New Delhi
1974 Pundole Art Gallery, Bombay
1973 Taj Art Gallery, Bombay
1970 Kumar Art Gallery, New Delhi
1968 Kumar Art Gallery, New Delhi
1966 Taj Art Gallery, Bombay
1965 Gallery Chemould, Calcutta
1962 Private Show, Alyque & Pearl Padamsee, Bombay
1962 Indo-American Society Gallery, Bombay
Share this