Kishor Digambarrao Ingale
By South Asian Art Gallery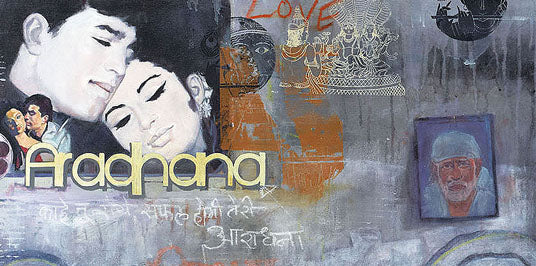 Kishor Ingale is the owner of a mind that can take in the absolutely mundane and turn it into something completely thought to provoke, interesting and unforgettable. His mind sees the contrast in everything around us. His graffiti-obsessed, graffiti-trained hands and mind manipulate these visuals into extraordinary, insightful art; the nearest comparison being 'live hard rock in a tiny by-lane of suburban India'.
What differentiates his art clearly is his long association with graffiti art. He uses this fascination in a way that is endearing and tasteful. As a true graffiti artist, not only does he love walls, he goes a step further and calls his canvases "Walls That Speak". His works are a clever juxtaposing of many things – from film posters, advertising billboards, political slogans, plain walls, animals, roosters, lanterns on lonely verandas, furniture…singly and together.
Just as to a graffiti artist the world is his canvas, Ingale recreates another world of contrasts in his canvases with a rare wit and whim. He strongly believes that what shaped him is what he has gathered along the way – visuals gathered in a childhood spent in nondescript towns and villages and, thoughts sharpened by life in urban surroundings as an adult.
His works are many-layered but there is never any confusion in them, just a very captivating mixed media of contrasts. One will find it difficult to pull away from his art. And that is because it is true to life.
To see artworks by Kishor Digambarrao Ingale, click here
EDUCATION
2005 B.F.A. (Painting) Govt. Chitrakala Mahavidyalaya, Nagpur University, Nagpur
2008 M.F.A. (Creative Painting) Nagpur University, Nagpur
GROUP SHOWS
2013 Junior Artist, AIFACS Gallery, New Delhi
2013 'Rangayan'Chitnvis Center, Nagpur
2012 'Emerging Canvas', Lalit Kala Academy, Chennai
2012 'Nagpurians', Lalit Kala Academy, Delhi
2012 'Nagpurians', AIFACS Art Gallery, Delhi
2010 'Nostalgia', Lalit Kala Academy, Guwahati
2010 'Two Way's, Cisfa Art Gallery, Nagpur

2008 'Two Way's, Jahangir Art Gallery, Mumbai

2008 'Two Way's, Rabindranath Tagore Art Gallery, Nagpur
2008 'Collective Nagpur', Rabindranath Tagore Art Gallery, Nagpur
2007 'Divergent Horizons', Academy of Fine Arts & Literature, Delhi

2007 'Roots & Shoots', The Gallery Cork, London, U.K.

2007 'Roots & Shoots' an exploration of Indian Contemporary Art, Leela Galleria, Bangalore
2007 'Beyond Boundaries II', Mahua Art Gallery, Bangalore

2007 'Beyond Boundaries', Bajaj Art Gallery, Mumbai

2007 'Art Fusion Show', Nehru Centre Art Gallery, Mumbai

2007 'Young Artist Award Show', Mahua Art Gallery, Bangalore

2007 'Visual Art', South Centre Zone Culture Centre, Nagpur
2005 'Harmony show' World Trade Centre, Mumbai
2005 'Mansoon', Jahangir Art Gallery, Mumbai
2005 'Mansoon', Bajaj Art Gallery, Mumbai
2005 'Chatak', Nehru Centre Art Gallery, Mumbai

2005 'Aarambh', Tarun Bharat, Art Gallery, Nagpur

 2005 'Joining Hands', Rabindranath Tagore Art Gallery, Nagpur
2004 'Rupanjali', Rabindranath Tagore Art Gallery, Nagpur
Share this