Laxma Goud
By South Asian Art Gallery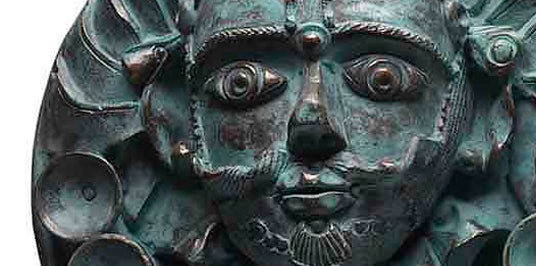 Laxma Goud is an artist in love with his birth hamlet and its people. He paints as if to preserve his memory of his village. He paints as if he understands those images he had fallen in love with growing up are fast changing. In over the 5 decades, he has been painting, he has experimented with a variety of mediums, establishing the best techniques in the use of each of those mediums. The mastery and versatility show in his works. He is equally at ease with painting, etching, pastels, gouache, sculpture and glass painting. Laxma Goud's evolution as an artist has indeed been fascinating as his art itself, marked by distinct phases. Thematically and structurally, he has moved with the years giving his audience a wider view of his art and thought process.
A recurrent theme in Goud's earliest works is eroticism. His representations of people exuded power and vivacity. They came across as raw, rustic and very compelling. His portraits of men and women represent the dynamic Indian ethos rather than particular individual identities. His men and women appear alongside a goat in most of his works, surrounded by elements from their day to day environs. Goud's works are the unwritten pages of history and art of early Andhra Pradesh. Goud's work is very personal to him a fact that has been proven over and over by the maintenance of his characters and themes within a miniature frame and space. It is as if he is putting out a tiny piece of himself on display every time he composes a painting. The artist lives and works in Hyderabad, India.
To see artworks by Laxma Goud, click here
EDUCATION
1963-65 Post - Diploma of Fine Arts, Maharaja Sayajirao University of Baroda

1957-62 Diploma Government College of Fine Arts and Architecture, Hyderabad
SELECTED SOLO EXHIBITIONS
2012 'I want to Seduce with My Line', at Art Alive Gallery, New Delhi
2011 Art Musings, Mumbai
2011 'Everyday Life', Focus Art Gallery, Chennai
2009 Aicon Gallery, London
2009 Gallerie 88, Kolkata
2008 'Water Colour, Etchings and Sculptures', Indian Contemporary Art, Jaipur
2008 'Intaglio Prints 2007', Gallery Space, Hyderabad
2007 'Laxma Goud, 40 Years: A Retrospective', Aicon Gallery, New York
2006 Bronze and Terra – Cottas Sculpture Show, The Guild Art Gallery, Mumbai
2003 Early Works, The Guild Art Gallery, Mumbai
1991 The Gallery, Chennai
1985 Lalit Kala Akademi. New Delhi
1982 Royal Academy, London
1976 Black Partridge Gallery, New Delhi
1974 Surya Gallerie, Friensheim, West Germany
1973 Andsell Gallery, London
1972 Gallery Chemould, Mumbai
1965-67 Kalabhavan, Hyderabad
SELECTED GROUP EXHIBITIONS
2012 'Diva', Sakshi Gallery, Mumbai
2012 'Metallurgy', The Harrington Street Arts Centre, Kolkata
2011 'States of Departure: Progressives to Present Day', Aicon Gallery, London
2010 'Dali's Elephant', Aicon Gallery, London
2009 'Mark of Masters -2', Art and Soul, Mumbai
2009 'In Search of the Vernacular', Aicon Gallery, New York
2008 1 x I Art Gallery, Dubai
2007 'High on Art', Visual Art Gallery, India Habitat Centre, Mumbai
2007 'Pursuit Sculpture', Galerie 88, Kolkata
2006 'Drawing Show an Act of Art II', Priyasri Art Gallery, Mumbai
2005 'Change of Address', The Guild Art Gallery, Mumbai.
1998 'Drawings', The Guild Art Gallery, Mumbai
HONOURS AND AWARDS
1969 Gold Medal, Hyderabad Art Society, Hyderabad
1968 Silver Medal, Hyderabad Art Society, Hyderabad
1966-70 Award, Annual Exhibition, Lalit Kala Academy, Andhra Pradesh
1962 Award, Annual Exhibition, Lalit Kala Academy, Andhra Pradesh
Share this