Ramachandra Kharatmal
By South Asian Art Gallery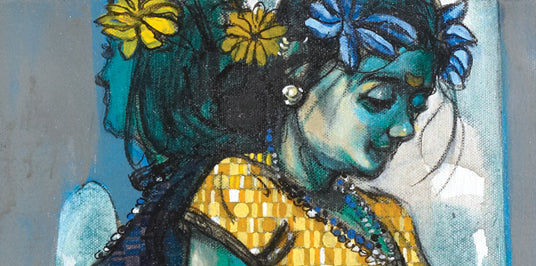 Ramachandra's world begins and ends with art. His work is his worship and passion. The many laurels including State and National awards are a testimony to his dedication to art. Different things fancy him at different points in time but his love for recreating on canvas the human form is so perfect and lucid that he comes across as a master who understands not just the contours of the human form but also the emotions that the human form come built with – his paintings showcase the realities of life. Internal pain, anger, sorrow, misery and love come alive on his paintings.
Ramachandra doesn't just draw; his paintings point to greater imageries of the subjects' life and emotions. His use of quilt as a theme across his works is worth mentioning. Quilts have a strange quality about them – mostly they are pieces of fabric sewn together. Human relationships and emotions are sewn up bundles all the time – just like the quilts. Most of his works also feature the poor and the middle-class citizens in whose lives the quilt carries more significance as patched up clothing. As dark as it may sound, his creations are a total contrast; the quilts in full of colour and vibrancy. They ooze energy into minimalist backgrounds. The stitch can also be found to occupy predominant locations throughout his canvases signifying emotions and lives stitched together.
The artist is heavy on brevity. But the brevity of his imagery is camouflaged by the richness of his colours Ramachandra fills every portrait with unique colours and patterns which are suggestive of the time and enhance the imagery of his painting. Such is the impact of his paintings that the viewer is left with a lasting impression long after he has left the presence of Ramachandra's work. It is like walking away with an endearingly haunting memory of having been in the presence of something absolutely magnificent, almost like the touch of the Creator himself.
To see artworks by Ramachandra Kharatmal, click here
EDUCATION
2001-02 Diploma in Art Education, Bharti Kala Mahavidyalaya, Pune
1998-01 Diploma in Drawing and painting, Kala Mahavidyalaya, Satara
1996-98 Foundation and Art Teacher Diploma, Kala Vavsaya Kendra, Solapur
2012-014 Master of Fine Art, Karnataka Open University, Karnataka
SOLO SHOWS
2013 – "Samvaad-2" The Renaissance Art Studio, Pune
2004 - Bless Art Gallery Pune
GROUP SHOWS
2014 Dubai
2014 Thane Kala Bhawan, Thane
2013 Lakeer Art At AAF, Singapore
2013 Tandem, Ayatana Art Gallery, Pune
2012 Gallery-G, Taj hotel, Bangalore
2012 The Renaissance Art Studio Pune
2011 5 strokes, Jahangir Art Gallery, Mumbai
2010 4 Side Nehru Center (A/C), Mumbai
2009 Art Mosaic Gallery, Singapore
2009 Art2day Gallery, Pune
2009 Group Show, AT Kala Bhavan, Thane
2008 Group Show, at Artist Center, Mumbai
2008 "Mother and Child "Arvee Art Gallery, Pune
2008 "Touch to" Art Entrance Gallery, Mumbai
2007 Nitai Gaura's Art Gallery, Thane
2007 "Tatva'07" State Art Gallery, Hyderabad
2007 "9 Expressions" Karnataka Chitrakala Prishath, Bangalore
2007 Aab Art Gallery, Worli, Mumbai
2006 "Aalekhya" Art2Day Gallery, Pune
2006 14th Punekar, Birla Academy, Kolkata
2005 Chembur Golf Club, Org.- World Pallet Gallery, Mumbai
2003 Manthan Group show, Pune
Share this