Laxman Aelay
By South Asian Art Gallery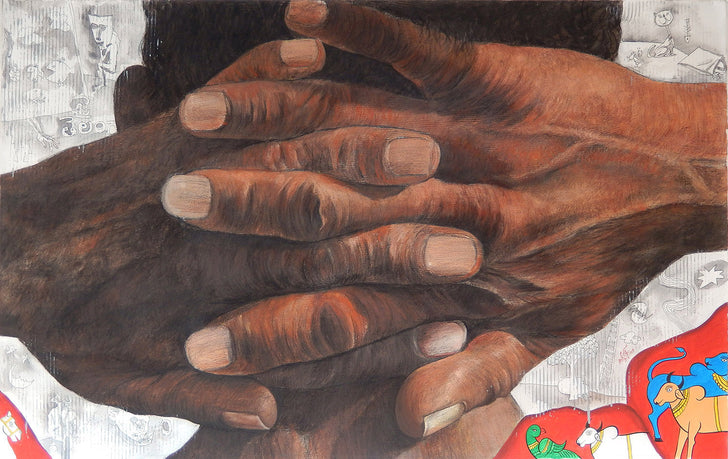 Aelay Laxman is highly a reputed artist for his contemporary depictions of the rural Telangana imagery. Laxman Aelay's craft is a craft of realism. His vibrant quasi-realistic paintings and arduously drawn imagery evoke a sense of apprehension and nostalgia. His men and women in typical Telangana attire proclaim their cultural identity. He inspiration may be varied – it may be political, ancient to modern ethnography, music and musical instruments, performers, motifs, posters, prints, colours, flowers or the common people we come across on any street in India. But there is the mastery of the technique of delivering all of the above in every picture without as much as a small aberration. The lines are blurred and images are blended so well that the elements and colours never look out of place in the given setting. His subjects are about themselves, their lives; they are not posing for the artist or the viewer. It is as though they have chosen not to pay attention to the viewer. He refers to his subjects lovingly as his 'fellow travellers'.
Laxman's canvases are like photographs being printed from a rather resilient memory: of the moment, with microscopic detailing, the combination of colours and play of light quite natural and perfect, despite the strength of certain colours and elements. There is never a dull moment in his canvases. Just when by the limits of our imagination we start to expect a clean horizon or a pictorial depth, we encounter a background patterned with kalamkari prints, episodes of birds and animals from the painted scrolls used by the mandahechelu in performances or patapradarshana (the use of song, story and scrolls to present the story of the golla or the shepherd caste. Many elements like a flower or poster quite amply filling spaces, fighting to be seen but never subduing the main imagery. Many of his works also derive from the Padmashali artists (performing artists)who are known as 'propagators of the herd or flock'.
Laxmna Aelay's own lineage is part of this story. He belongs to the Padmashali caste. His father was a weaver and Laxman grew up amidst texture, colour, motif and design. Starting as a signboard painter he grew on to become a cut and paste artist with the Telugu daily, Eenadu in the pre-computer era. He is currently pursuing PhD studying Nakashi painting and Dalit bahujan performing art forms.
To see artworks by Laxman Aelay, click here
EDUCATION
1996 Bachelor of Fine Arts (Painting), JNTU College of Fine Arts, Hyderabad
SOLO SHOWS
1999 Images of Kadirenigudem at I.C.C.R. Art Gallery, Hyderabad

2004 Drawing Show CHARISMATIC CONTOURS, Gallery Threshold, New Delhi
2005 Song of the Village at Apparao Galleries, Chennai
2006 Moods and Colours at Fida art gallery, Singapore
2008 The River Underneath at India Fine Art, Mumbai
2012 Song of the Village 2, Alliance Francaise, Hyderabad
GROUP SHOWS
1995 TANA Art, Chicago, USA

1998 Street Show for Human Rights Commission, Hyderabad
1999 Contemporary Deccan, A New Generations of Artists at C.C.M.B, Hyderabad
2000 7th Annual Group Show at Surya Art Gallery, Hyderabad
2001 Tradition to Modernity, Fulda, Germany
2004 1st Anniversary Exhibition Gallery, Sara Arakkal, Bangalore
2007 AP Art of the Habitat at Leela Lounge, New York
2007 Paper-Love, India Fine Arts, Mumbai
2007 Beyond Boundaries at Mahua Art Gallery, Bangalore
2007 Kaleidoscopeorganized by Ayya Art Galleries at Kitab Mahal, Mumbai
2008 Symphony of Colours organized by Art Panache and ABN AMRO, Gurgaon
2008 Glimpse into Indian Art at Prakrit Arts and Ayya Art Galleries, Chennai
2009 People and Places at Art Pilgrim, Gurgaon
2009 State Level Art Exhibition at Telugu University
2011 Art Ensemble, an exhibition of contemporary, Alliance Francaise, New Delhi
2011 Chawla Art Gallery, The Visual Art Gallery, New Delhi
2012 India Art Fair in association with G Gallery and Red Bud Gallery, USA
2013 Strokes for Stripes, sponsored by Aircel – Save our Tigers, Show & Auction
2013 Kala for Vidya, The Taj West End, Bangalore
2013 The Collectibles, organized by Dhoomimal.com at Triveni Gallery, New Delhi
AWARDS
1987 BRONZE MEDAL in the Painting Competition conducted by Amateur Artist Association, Nalgonda, Andhra Pradesh
1993 GOLD MEDAL in the Painting Competition by Konaseema Chithrakala Parishath, Amalapuram, Andhra Pradesh
1995 Appreciation Award from Hyderabad Art Society Annual Painting Competition
Share this