R. B. Bhaskaran
By South Asian Art Gallery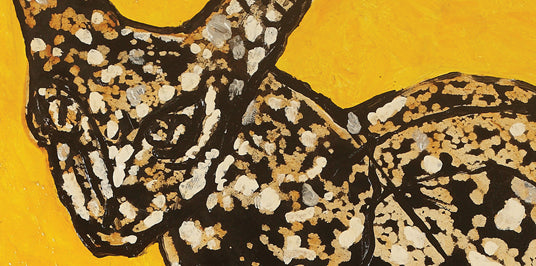 He makes a very dynamic Principal (College of Arts and Crafts, Chennai) and a free-expression artist who understands today's art market. And he never fails to impart his knowledge of marketable art to his students. He also makes a very good rebel in the sense that he refuses to derive meanings from his works, he refuses to explain himself. He refuses to let his paintings preach to the viewer.
Painter R. B. Bhaskaran is one of the most experienced and talented of artists in India. The rebel in him comes forth not just in his works, but in real life as well. He is among those artists in South India to participate in the Madras Art Movement of the 1960s and also among the first to rebel against the concept of 'Nativism' propagated by K.C.S. Panniker, the idea that one must consciously evolve an Indian style by introducing Indian motifs and themes into one's work. He does not believe that Indian paintings should look Indian. He does not see why they should. He is completely at home with the 17th-century works of Diego Velázquez and their future alter egos – the Cubist portrayals of objects by Pablo Picasso and the colour/shape experiments of Paul Cézanne. He derives from them flamboyantly to complete the forms on his canvas. His fresco training at Bhanasthali Vidyapeeth in Rajasthan takes more than a good peep into his canvases alongside Velázquez and Picasso. The shift is noticeable but the end result is an effortless beauty that stands in a space of its own. To know Bhaskaran's paintings, you need to know the artist. Bhaskaran and his paintings share the same quality – a certain ruggedness, pleasant rakishness and an unusual dynamism. There is usually a lot happening on his every canvas, but each of these elements have their own space, they coexist without influencing or taking the magic away from the others. For example, the tribal-like designs are everywhere but strangely they do not interfere with the rest of the painting at all. Do not miss the mixed media wedding portraits titled 'Couple' that are derived from wall-hanging marriage portraits at almost every Indian home and his signature work involving his beloved cat.
R B Bhaskaran lives and works out of Chennai.
To see artworks by R. B. Bhaskaran, click here
EDUCATION
1964 Diploma in Advanced Painting after a six-year course at the Government College of Arts & Crafts, Chennai

Training in fresco techniques at Banasthali Vidyapeeth, Rajasthan
SELECTED SOLO SHOWS
To date, more than twenty-eight solo exhibitions in Chennai, Mumbai, Bangalore and Delhi and also abroad in the United Kingdom, Holland, Israel and the Fiji Islands.
SELECTED GROUP SHOW
1992 Birla Academy of Arts and Culture Silver Jubilee Exhibition, Calcutta
1992 Gallery '88, Bangalore
1991 Rotary Club Exhibition, Chennai and Bangalore
1991 Rimbaud - Indian Artist' Show, Alliance Francaise, Chennai
1991 Max Mueller Bhavan, Hyderabad
1991 Miniature Format Paintings Exhibition, Lalit Kala Akademi, Mumbai
1991 Sound and Picture Archives for Research on Women, Mumbai
1990 Sarala Art Centre, Chennai
1989 Artist Self-Portrait Exhibition, Village Art Gallery, Delhi
1986 Dhoomi Mal Art Centre, New Delhi
1985 Festival of India Printmaking Show, USA
1982 Art Heritage, New Delhi
1975 3rd Triennale-India, Lalit Kala Akademi, New Delhi
1978 '25 Years of Indian Art' Exhibition, Lalit Kala Akademi, New Delhi
SELECTED AWARDS
2005 Joins the judging jury for the Florence Biennale, Italy
2004 Elected Chairman of the Lalit Kala Akademi, New Delhi
2002 Elected Eminent Artist of Lalit Kala Akademi, New Delhi and a member of the All India Council of Technical Education
1997-2001 Principal of the Government College of Arts & Crafts
1995 Principal of the College of Art, Kumbakonam
1987 Secretary of the Lalit Kala Akademi Regional Centre, Chennai
1986 Made a Commissioner for the 6th Triennale India
1982 Awarded Fellowship from the Department of Culture, Government of India (1984-6 &1979-81); National Award for Graphics
1981 Joins the jury for the National Exhibition
1976 British Council Scholar allowing him to undertake postgraduate studies in printmaking at Portsmouth Polytechnic in the United Kingdom
1968 UNESCO Scholarship awarded allowing a printmaking and ceramics research and learning trip to Ein Hod in Israel
Share this