Priyanka Aelay
By South Asian Art Gallery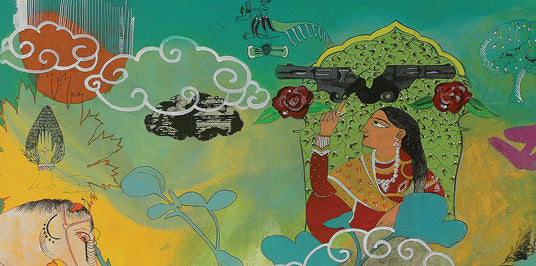 Priyanka Aelay is an artist who embraces the folk form and elements from it and uniquely transforms it into an expression that is very personal and contemporary in nature. She uses folk art form more like a medium rather than the core of her works.
Her works reflect an amalgamation of folk art's unsurpassable energy, momentum and simplicity which the artist's brush turns into basic yet expressive forms. Her works delve on the 'simplified form of expression' that forms the core of folk art. Priyanka's canvases speak of her love for portrait and her approach towards environmental and social issues. The viewer gets led through the nuances, shades and anecdotes that the artists or those around her have been exposed to.
It is interesting how she creates a conversation between the fundamentals of a form of painting and, her own personal storyline. There is also the inclusion of text in the works touched upon with a marvellous finesse. The words never become a source of distraction or disturb the rhythm and flow of the work. On the contrary, they excel in knitting together the folk essences and the personal anecdotes into a single thought which truly enthrals.
Priyanka is a portraiture person. In her studio come alive many self-portraits in a myriad of moods and varied ambiences. The artist also loves creating planes that are arranged, overlapped and distorted to create vivid identities and characters. It is as if the artist's subconscious and deep-seated feelings are having a conversation with the viewer.
Then there is the other side of the artist – she goes all intricate in her drawings exploring the many facets and angles of life and existence. This is a sheer contrast to her works with folk art as the base. It is as if the artist has crossed on to the other side of the bank of the river called artistic expression. In her intricate works you will find animals, at times the very defined and pronounced characteristics, and at other, reigning over the surface in their ambiguous features. The inclusion of pins and other metaphorical elements rightly emphasize and enhance the artist's dialogue.
The intricate patterns and text in the drawings also lend texture to the works. This rather clever incorporation of elements leads the viewer from one form to another, leaving the viewer in a pleasant trance making it impossible for him to take his eyes off the picture surface until each and every section has been explored and contemplated upon thoroughly.
Priyanka Aelay holds a masters degree in fine arts and has participated in numerous solo and group shows.
To see artworks by Priyanka Aelay, click here
EDUCATION
2011 Bachelors in Jawaharlal Nehru Architecture and Fine Arts University, Hyderabad.
2013 Master of Fine Arts from Hyderabad Central University, Hyderabad, India.
SOLO SHOWS
2015 Hey. Hi, "I am Will". Trident, Kalakriti Art Gallery, Hyderabad
2014 Hyderabad Literary Festival, Kalakriti Art Gallery, Hyderabad
2013 Falaknuma Palace, presented by Kalakriti Art Gallery, Hyderabad
2012 'Eye na...', Kalakriti Art Gallery, Hyderabad
GROUP SHOWS
2015 'Being in Her Shoes, Kalakriti Art Gallery, Hyderabad
2014 'Art @Telangana', Salarjung Museum; Muse Art Gallery, Hyderabad; & Metropolis world Congress, Novotel, Hyderabad
2014 Gallery Space, Hyderabad
2014 'Hudud Fund Raising', Gallery space, Hyderabad
2014 'Collectors' Choice', Tamkanat Art Gallery, Hyderabad
2014 'Inaugural show', Tamkanat Art Gallery, Hyderabad
2014 'Power of Women', Ginger Lily Gallery, Radisson Blu, Hyderabad
2013 'Deccani Strokes', Taj Krishna, Hyderabad
2013 'Art Jamboree- art and design', Daira Art Gallery, Hyderabad
2013 'Genesis of Memorabilia', Ailamma Art Gallery, Hyderabad
2013 'Flower Power', Daira Art Gallery, Hyderabad
2013 'Love Bytes..', Daira Art Gallery, Hyderabad
2012 'Women artists', Lone Star Studios, San Antonio, Texas, USA
2011 Muse Art Gallery, Hyderabad
2011 Femin Dissilience', Muse Art Gallery, Hyderabad
Share this