Ram Viranjan
By South Asian Art Gallery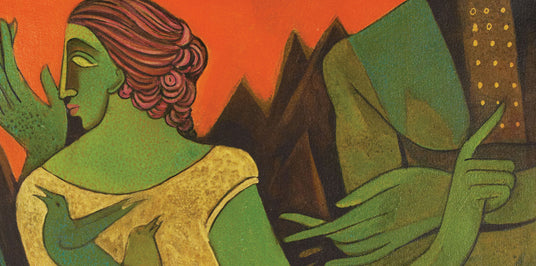 If Ram Viranjan were an activist, he would argue for 'one world', a place where man, birds, animals, and flora live in absolute harmony with each other. He would preach to share in his fantasy world where everyone is equal. Ram Viranjan's works are based on the harmony he fantasies in this world. He is a strong propagator of a peaceful world and every canvas from his collection speaks the same language.
Ram Viranjan's characters are seen to exist in harmony with other living beings. His images are deeply impacted by depictions from ancient Indian history, mythology and folklore, as well as those from West Asia, presented to the viewer in a very contemporary manner. However, none of his images stand for any social or ritualistic stigmas attached to the forms rendered therein. What is remarkable in his works is the sense of peace and joy that his characters exude. Also remarkable are the intricacies that he weaves into the body of his works – be it in the fabric draped by his characters, the background, the delicate tattoo work on his characters' body parts, the inculcation of multi-ethnic, multi-cultural symbols in a manner that they never conflict each other but complement each other… The sharp lines, the addition of dominant flora and fauna and decorative motifs in Ram Viranjan's work surprisingly add only more simplicity and clarity to his canvases.
His presentation of the natural habitat is a treat to the eyes. His sense of color and the depth he manages to achieve through the use of minimal colors creates breath-taking results and adds volumes to his presentations. Seek Ram Viranjan's works for a moment in peace and sense of belonging in this fast-paced and self-indulgent world.
To see artworks by Ram Viranjan, click here
EDUCATION
1987 Diploma in Painting, from the University of Allahabad

1988 Post Graduation in painting from University of Allahabad
1989-90 UGC NET.
1998 D. Phil., (Ph. D) from University of Allahabad, India
SOLO SHOWS
2014 New Delhi, At Arpana Art Gallery, New Delhi

2011 New Delhi, sponsored by Aditi Arts at Johnson watch, South Ext
2008 Goa, Sponsored by Ruchika Art Gallery
2005 Chandigarh, at Punjab Lalit Kala Academy
2005 Lucknow in Nirala Art Gallery, University of Allahabad
2000 Kurukshetra, organized by Museum & Art gallery, Kurukshetra University
1999 Patiala, organized by N.Z.C.C., Patiala
1999 Shimla, organized by dept. Of Language and culture, Shimla, HP
1998 Chandigarh, organized by IndusInd Bank's Art Gallery, sector-8
1997 Allahabad, organized by University Art Gallery, University of Allahabad
AWARDS
2013 HIFA state award

2011 B. C. Sanyal Award by Delhi Collage of Art, New Delhi
2010 76th All India Art Exhibition award, by Indian Academy of Fine Arts, Amritsar
2004 70th All India Art Exhibition AIFACS award, by Indian Academy of Fine Arts, Amritsar
2001 Triveni Samman presented by Triveni Mahotsava, Allahabad
1998 Merit award by AVANTIKA on 6thAll India Art Exhibition New Delhi
1999 Certificate of commendation, by Bank of Punjab Chandigarh
1997 AIF ACS scholarship award
1987 Centenary celebration of University of Allahabad award on painting exhibition
Honor
Guest of Honour in painting workshop organized by Sri Guru Harkishan College of Education, Jagadhari, Yamuna Nagar on 17th March 2011
Share this