Rekha Rao
By South Asian Art Gallery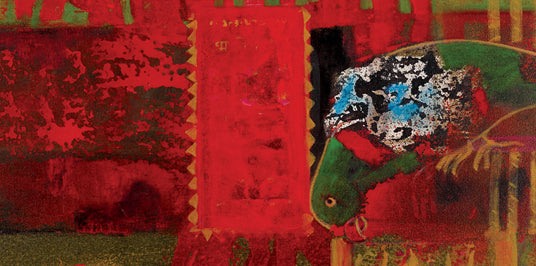 Rekha Rao is the Queen of metaphoric depictions and is by her own admission, her greatest critic and interpreter. Her inherited love for colours and deep-set understanding of the pictorial space is discernible in all her work.
Rekha allows her paintings to set their own rules which is also her success. She doesn't force fit anything into a frame. She allows them the freedom to express themselves fully or through several different veils much like the inspirations behind her works – birds and clouds. She looks upon both these elements as free souls in a shroud that makes it difficult for the commoner to get a grip on what they really are. To her, clouds and birds speak freedom like none other, they express like none other. Her works feature what she sees every day which may be a parrot or a passing cloud in spring, but when she translates them onto canvas, they acquire a different meaning and depth.
Rekha Rao may have picked up the nuances of painting from her artist father. But her works, even in their earliest days, were her own sensibilities and observations. Deep and bright colours standing alongside the muted, subtle browns and greys, the loud yet biding abstraction, the lack of detail and an ethereal presence of it by interpretation – Rekha Rao is among the rare talent that has the eccentricity and genius to pull it together.
 To see artworks by Rekha Rao, click here
EDUCATION
Studied Painting Under her Artist Father K K Hebbar
SELECTED SOLO EXHIBITIONS
2006 Cymroza Gallery, Mumbai

2006 Sumukha Gallery, Bangalore
2005 Forum Gallery, Chennai
1995 Cymroza Art Gallery, Mumbai.
1986 Gallery Nidus, Sydney, Australia.
1985 Gallery 'K', Geneva & Bonn sponsored by ICCR.
1985 Gallery Unverzagt, Germany.
1969 Jehangir Art Gallery, Mumbai.
1981 Dhoomimal Gallery, New Delhi.
1987 Sakshi Gallery, Chennai, Bangalore.
1980 Urja Gallery, Baroda.
1971 Gallery Chemould, Mumbai.
1972 I Serisawa Gallery, Los Angeles
SELECTED GROUP EXHIBITIONS
2012 'Women: Sacred and the Temporal', Shrishti Art Gallery, Hyderabad

 2006 The Noble Sage Gallery, London
2002 Gallery Sumukha, Bangalore
1997 Silver Jubilee, Cymroza Gallery, Mumbai
1995 Exhibition & Auction by Sotheby's, for 'Save the Children', Mumbai.
1994 'Chitranjali' Auction held by Bengal Chamber of Commerce, Kolkata
1993 Four Women Painters, LTG Gallery, New Delhi.
1993 Asprey's Auction for 'Helpage India'.
1992 Western Region Show, Birla Academy of Art & Culture, Kolkata
1991 'Images & Words', Safdar Hashmi Memorial Trust, New Delhi.
1991 An exhibition of selected works, Gallery Espace, New Delhi.
1991 '8 Contemporary Artists' "Joy and Despair", Joshua Gallery, Singapore.
1990 'Calcutta through the Eyes of Painters', Birla Academy of Art & Culture.
1989 Bombay Art Society's Centenary Show, Mumbai.
1989 'Nature & Environment', Lalit Kala Akademi, New Delhi.
HONOURS AND AWARDS
1978 Maharashtra State Award
1977 Lalit Kala Akademi Award
1976, 77 Received the Hyderabad Art Society's Award
1971 Critics Award
Share this