Sanjay Raut
By South Asian Art Gallery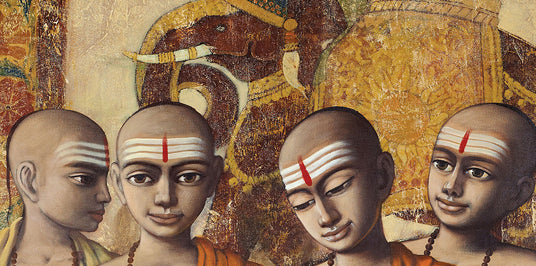 Sanjay Raut's paints in a way that rhymes of his want to go back into his childhood; his upbringing in a Maharashtrian village where he listened to countless stories of Hindu culture and the Gurukul system of learning, sitting on his mother's lap. His works are vignettes of a bygone era rich in culture and rituals, full of quiet piety, solemn Brahmin boys learning and living in their Guru's household, the same young lads boisterously singing and dancing, the ethereal Gods and Goddesses, of stories told by a mother to her child of how brave, regal, wonderful and virtuous their culture really is.
His use of strong ochre, pious white and muted greens add tremendous value bringing to the fore, the tones and mood associated with Hindu religious practices and customs. By his own admission, Raut stands fascinated by his culture and continues to be drawn into intricacies. Each of his canvases is a portrayal of a unique moment. There is much to see, and an entire religion and its people to be understood and learned from in his paintings.
A sense of calm pervades in his paintings; they become a place where time stands still and life goes on unhurried, away from the humdrum of the big city. His detailing is worth mentioning. The backgrounds delight with their religious wall paintings, fading from exposure to elements, a kind of traditional religious graffiti that is available to see around both rural and urban India even today.
In many ways, his works are an eye-opener to the outside world of what foreigners and even Indians themselves seek on this soil.
To see artworks by Sanjay Raut, click here
Share this