L N Rana
By South Asian Art Gallery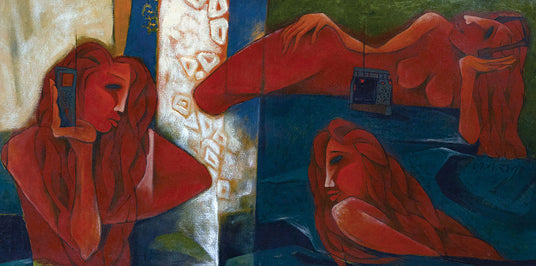 L N Rana is a sculptor and painter.
Rana's works are of modern living, of people's lives, moods, conflicts and of the restraints placed on them by space and time. He creates in modernist strokes strong characters, of men and women, who lend weight to his paintings. He brings more prominence to his characters and their story by the clever use of subtle colours and a rather shrewd hint of the characters' ambience. This treatment gives his method of story-telling, a definition, narrative and insight that very few artists of the genre have achieved.
Love, living and divergences are sustained themes of his work. His paintings are stories well-begun. The viewer is free to interpret the flow and the end. He understands the random and brings meaning to them by linking them with hints of history or perhaps, mythology.
Rana's paintings share their soul with his sculptures as well. They draw from each other and yet these two bodies of work have a quality and appeal that are different from the other. How a singular theme can develop into a whole story on canvas and how an object from the same canvas can become a sculpture that is void of the length and breadth of the story and breathes only of a moment captured, is a miracle probably only Rana can achieve.
To see artworks by L N Rana, click here
EDUCATION
1988 B.F.A. (Painting) from Jamia Millia Islamia, New Delhi

1990 M.F.A. (Painting) from Jamia Millia Islamia, New Delhi
SOLO SHOWS
1994 Triveni Art Gallery, New Delhi
2001 Art Indus Art Gallery, New Delhi
2004 Ravindra Bhawan, Lalit Kala Akademy, New Delhi
2007 Jehangir Art Gallery, Mumbai
2011 Lalit Kala Akademi, Rabindra Bhawan, New Delhi
2012 Pearl Art Gallery, New Delhi
GROUP SHOWS
1996 Shridharani Art Gallery, New Delhi

1997 Bajaj Art Gallery, Mumbai
1999 Two Men Show, Ravindra Bhavan, Lalit Kala Academy, New Delhi
2002 UNIPACE, Art Exhibition, Garhi Art Gallery, New Delhi
2002 'Evil Face of Global Terrorism' Lalit kala Akademi, New Delhi
2003 Jehangir Art Gallery, Mumbai
2004 Indraprastha Art Gallery, Madhu Vihar, New Delhi
2004 The Great Train Art Gallery, Friends Colony, West New Delhi
2006 Organized in Art Guild Gallery, M.G. Road, New Delhi
2006 Organised in India Art Gallery, Pune
2007 Lokyata art gallery, Organised by Indraprastha art Gallery, New Delhi
2007 Art show-Rainbows in the sun, Rabindra Bhavan, New Delhi
2008 Art show –Rainbows in the sun, L.K.A. Rabindra Bhawan, New Delhi
2008 Group show at Travancore Art gallery, New Delhi
2008 L.K.A Rabindra Bhawan, New Delhi
2008 Art exhibition-CANVASINDIA, organized by e-Painting in LONDON
2009 Lado sarai, New Delhi
2011 Mystic expressions, Gallery AIFACS, New Delhi
2011 A group exhibition ARTISTIC EXPRESSIONS-II, Arpana Caur art gallery, New Delhi
2012 CONFLUENCE`12 by gallery art eterne at Lalit Kala Akademi, New Delhi
2012 TOGETHER a big art exhibition by Delhi artists, Lalit Kala Akademi, New Delhi
2013 Group exhibition of four artists at Visual art gallery, India Habitat Centre, New Delhi
2013 Group exhibition "Gliter Arti" curated by Leena Namjoshi at Cyber Hub, Gurgaon, and Haryana
Share this