Shrikant Lalasaheb Kadam
By South Asian Art Gallery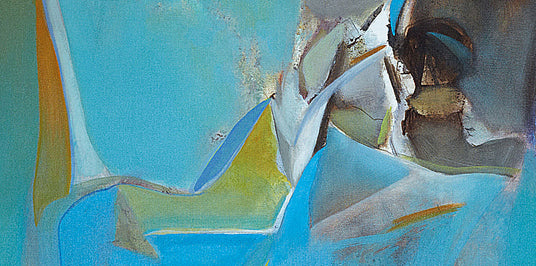 Shrikant Kadam has been working on his 'Nature' series for 14 years. He is in love with the sanctity of nature. The artist in him is in raptures over the aloof mountains, gushing rivers, intense seas, and primal, pristine forests.
Kadam's works are a life-long exploration of a world between realism and abstraction, veering closer to the latter. The artist mixes shapes and colors into rough configurations that don't exactly clamor for attention but nevertheless envelope the viewer with their gentle allure. With strokes that are neither geometric nor too organic, Kadam achieves a resoundingly strong composition. The orientation and earthy colors suggest a landscape, the aesthetic paint strokes confirming that impression. The artist's tryst with nature jumps out of each frame; every frame is reconstructed as if from memory, of his vision of the Himalayas or a water body long buried by time.
Kadam's compositions are unhindered, the expansiveness of the images is not negated resulting in his frames retaining a quality a pristine, soft and spiritual as nature itself. His strategy of working with a sparse palette not only brings forth the best in his canvases but also showcases his exceptional understanding of color. The blues, greens and muted oranges and browns make for a peaceful vision. Whether Kadam's elements let you into their conversation or not, you feel contended in their company.
 To see artworks by Shrikant Lalasaheb Kadam, click here
EDUCATION
M.F.A.(PTG) University of Pune, College of Fine Art

B.F.A.(PTG) University of Pune, College of Fine Art
DIP.A.ED Directorate of Art, Maharashtra, Sir J.J. School of Art
G.D.ART (PTG) Directorate of Art, Maharashtra
A.T.D. Directorate of Art, Maharashtra, Kalavishava Mahavidyalaya
SOLO SHOWS
1997 Khushboo Art Gallery, Pune

1999 Gallery 'Art Walk' Hotel Oberai, Mumbai
2003, 2008, 2013 Jehangir Art Gallery, Mumbai
2003 Gallery Hussein, Pune
2004 Vaishwik Art Environment, Pune
2007 Gallery Art 2 day, Pune
2008 Suchitra Art Gallery, Mumbai
2008 Pradarshak Art Gallery, Mumbai
2008 Studio Nepean Art Gallery, Mumbai
2009 Waves Art Gallery, Pune
2010 Airaawat Art Gallery, Mumbai
GROUP SHOWS
2010 '50 Artists Painting Exhibition', Y.B.Chavan Art Gallery, Pune

2011 Painting Exhibition, Ray Art Gallery, Pune
2011 'From Pune with Love', Tilting Art Gallery, Pune
2011 'Golden Jubilee of Maharashtra Art Show', New Art Gallery, Pune
2001 'TRIO', Darpan Art Gallery, Pune
2012 'UNTITLED', Chandigarh
2012 'Contemporary Delight', Jaipur
2012 'Flash 2012', Group Show, Art Gallery, Pune
2013 Indian oil Group Show, Mumbai
2013 'MOHOR', Pune Biennale, Pune
2013 'A Point & Line to Plane IX', Beyond Art Gallery, Mumbai
2013 'Pratibimba', All India Art Exhibition, Museum of Fine Arts, Chandigarh
2013 'ARTISTIC EXTENSIONS', Lalit Kala Akedemi, New Delhi
2013 Art Exhibition, Mirror Art Gallery, Aurangabad
2014 'Urban Cartographer', Beyond Art Gallery, Mumbai
2014 Anniversary Show, Pradarshak Art Gallery, Mumbai
Share this