T. Vaikuntam
By South Asian Art Gallery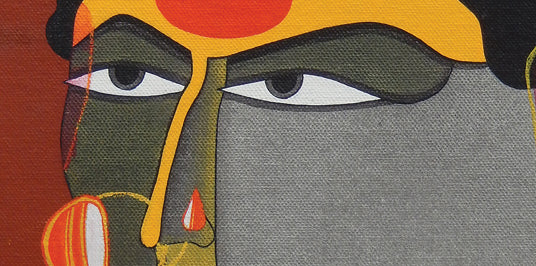 Vaikuntam is one of those people you can call 'Son of the Soil' and be so right about it. His work being is his very being, the essence of which is a commemoration of a childhood spent in his village of Boorugupali in Andhra Pradesh. His people are his muses, especially the women folk of Telangana.
Every piece of his work is a stirring memory of someone from his past – it may be a group of women conversing or a farm hand or women going about their chores. The artist admits that his obsession with women, in particular, may be traced back to the time when male artists who used to impersonate female characters in the traveling theatre groups that performed in his village. His works resonate with these figures. Vaikuntam tries to recreate from memory the sensuous vibrancy of the women of his idyllic village.
His women continue to be bold, enticing and vibrant.
He considers composite colors as unnatural or not existing in nature and hence despises their use. Hence all his works are in strong, solid primary colors. The blazing reds, oranges, yellows, and greens stand their ground and bring to life people as we would meet should we take a stroll along the by-lanes of Boorugupali.
To consider that the depth and a sense of character he achieves are through the use of those frugal colors and that the end results are so imposing both in their presence and as a memory long after the viewer has left their company is an achievement and articulation of the talent that he is. The artist lives and works in Hyderabad, Andhra Pradesh.
EDUCATION
1971-72 Painting and Printmaking, Faculty of Fine Arts, University of Baroda
1965-70 Diploma in Painting, College of Fine Arts and Architecture, Hyderabad
SELECTED SOLO SHOWS
2015 'The Telangana Icons', New Delhi at Grosvenor Gallery, London
2011 'Memoire du passé 1979-1999', Latitude 28, New Delhi
2007 'Yes, I am He', India Fine Art, Jehangir Art Gallery, Mumbai
2005 'Retrospective Show', Art Alive Gallery, New Delhi, London
2004 Kuhu Art Gallery, London
2003 'Portraits', Guild Art Gallery, Mumbai
2001 'Memories of Telangana', Sama, New Delhi
1999 Gallery 678, New York
1998 'My Telangana Images', Mumbai
1994 Surya Gallery, Hyderabad and Gallerie 88, Kolkata
1992 Gallery Kufa, London
1990 Cymroza Art Gallery, Mumbai
1985 Show of Drawings, Kala Bhavan, Hyderabad
1974 One-Man Show of Small Drawings, Hyderabad Art Society, Hyderabad
1972 Kala Bhavan, Hyderabad
SELECTED GROUP EXHIBITIONS 
2011 'Aureus 2011', Gallerie Nvya, New Delhi

2010 'The Living Insignia', Gallery Ensign, New Delhi
2009 'The Root of Everything', Gallery Mementos, Bangalore
2008 'Pravah', Art Pilgrim, New Delhi
2007 'Serigraphs', Archer Graphic Studio at Tao Art Gallery, Mumbai
2006 'Drawing Show an Act of Art II', Priyasri Art Gallery, Mumbai
2005 'Divine Inspiration', India Fine Art, Mumbai
2004 'Confluence', Arts India, California
2003 'Faces', Art Alive, New Delhi
2002 'Tradition and Change', Arts India, New York
2001 'A Panorama of Indian Contemporary Art', Art Circle, The Guild
2000 'Dubai / Creative 2000
1989 Max Mueller Bhavan, Hyderabad
HONORS AND AWARDS
1993 National Award For Painting
1985 Award from Hyderabad Art Society, Andhra Pradesh Lalit Kala Academy
1979 'Mahakoshal Kala Samithi', Madhya Pradesh
Share this