Vallabh Govind Namshikar
By South Asian Art Gallery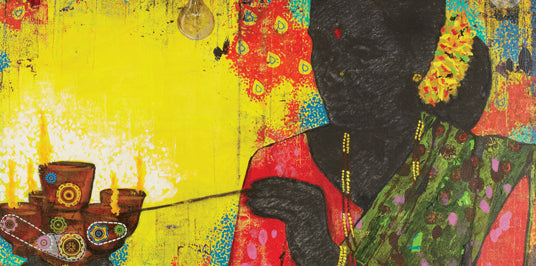 True-blue Goan Vallabh Govind Namshikar can also be called part-historian, part-artist. He records quintessential Goa and its original culture through his paintings. He is fascinated and enamoured by each of the aspects that collectively make Goa what it is. His frames capture the Goan life of the yester years and the present and its natural beauty with aplomb.
His works titled 'Lost Culture' are reminiscent of a past Goa, its culture and the vocations Goans used to keep. Those quaint symbols which are being threatened by the influx of western and modern contemporary lifestyle are captured in vivid colors. The decorative elements, so identifiable with the Indian tradition of painting, with their creative patterns and subtle, visually stimulating textures percolate into his works to enhance the aesthetic as well as the contextual value of it. Namshikar has been successful in recreating architectural nuances, traditional motifs and ethnic practices with equal flair. It is as though his works are preserving what the true essence of Goa is, especially when one looks at 'Ghode Modni', 'Goff', 'Taranga' and many such visually beautiful and contextually rich cultural extractions from the Goan cultural landscape.
His other works which at the moment are untitled, feature the Goa that the tourists see: traditional fishing trawlers named after local saints and Gods huddled together, the beaches and other mundane yet romantic elements. It is probably his treatment that makes the elements on his canvas stand out. Namshikar does not like to limit his imagination for the limits prescribed by one medium and therefore seeks and employs various media he deems appropriate to give his works that crisp, neat appeal. Goa sure is lucky to have Namshikar.
To see artworks by Vallabh Govind Namshikar, click here
EDUCATION
Bachelor of fine arts, Goa College of Arts, Goa
PARTICIPATIONS
2008 Anil Naik portrait painting workshop organised by Art & Culture
2009 Shrikant Jadhav & Suhas Bahulkar painting workshop organised by Art & Culture
2010 Vasudeo Kamat painting workshop organised by Art & Culture
2009,2010 Ganesh Painting competition, organised by Ruchika Art Gallery
2010 Artist's tour to Varanasi organised by Art society of India, Mumbai
2012 Artist's tour to Chittorgarh (Rajasthan) organised by Art Society of India
2012 Was a part of the group show named 'Chittadhara', at Kala Academy Gallery, Goa
2013 Artist's tour to Gokarna (Karnataka) organised by Art Society of India
2014 'Regional Art Exhibition 2014' organised by Lalit Kala Academy, Chennai
Was a part of the project for 'HOTEL TAJ VIVANTA', Panjim
Worked on a project for 'The Living Room', Resort, Vagator
Presently running 'CHITRANGAN' drawing & painting classes in Ponda
Other painting collections done for private residential & commercial projects
Member of Art Society Of India, Mumbai
Share this