Vinod Sharma
By South Asian Art Gallery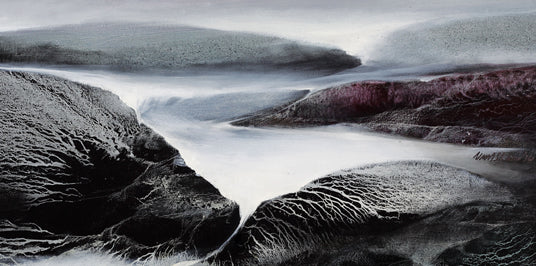 Meet the Mountain Man of India, Vinod Sharma. There probably isn't an artist so much in love with his country's landscape, more specifically its great chain of mountains as Sharma. Standing amidst his work is like experiencing a gust of fresh mountain air. You can feel the mist descend, you can feel the snow-capped mountains looking you back in the eye, and you can feel the chill of the semi-frozen lake atop a mountain range… The strokes, the illusion of depth and the play of colors are uncompromising and true to reality.
There is such silence in every scene. For a Delhi person who is always surrounded by so much sound, the stillness and silence in his works are stunning, refreshing and contrasting with his city's very nature. That being said, his works are never a likeness of the original. They are all entirely abstracts but yet convey the reality and grandeur of the mountains in a very endearing and heart-warming way. Each of his works never fails to create a stir, a flutter in the heart, a yearning to stand long and still among the mountains from which the mist if continually lifting off and fall captive to its never-ending charm.
Every mountain has a story to tell, in fact, each has many stories to tell. His works are a pure celebration of the mountains and mountains alone. And his romance with the stately and silent sentries of the country haven't lessened even a bit. His mountains are not all grey and somber blue despite all the silence that is portrayed. They take deep lively colors. They live in the oranges, blues, and greens he lavishly bathes them in.
To see artworks by Vinod Sharma, click here
EDUCATION
1978 Master of Fine Arts, M.S.University, Baroda

1976 Bachelors of Fine Arts, College of Arts, New Delhi
SOLO EXHIBITIONS
2009 Gadfly Gallery, Perth, Western Australia

2006 Arushi Art Gallery, New Delhi
2005 Srishti Art Gallery, Hyderabad
2004 Tao Art Gallery, Mumbai
2003 Jehangir Art Gallery, Mumbai
2002 Solo Show in Hofhim, Germany
2001 Solo Show in Frankfurt, Germany
2000 Art Indus, New Delhi
1999 Jehangir Art Gallery, Mumbai
1998 Aakarshan Art Gallery, New Delhi
1997 Art Heritage, New Delhi
1995 Beaux Art Gallery, New Delhi
1994 Jharokha Art Gallery, New Delhi
1993 L.T.G. Art Gallery, New Delhi
1992 M.E.C. Art Gallery, New Delhi
1991 Jehangir Art Gallery, Mumbai
1982 Exhibition of Graphics, Chandigarh Museum
1978 Aakaar Art Gallery, Chandigarh
GROUP EXHIBITIONS
2008 Mumbai, Hyderabad

2006 Visual Art Gallery, New Delhi
2005 Indo-French Exhibition in New Delhi
2003 Visual Art Gallery, New Delhi
2001 Gallery Alternative, New Delhi
2000 Group Show for 'Till Tomorrow Art International', Korea and India
1999 Exhibition of Contemporary Art in Dubai
1998 Exhibition of Contemporary Art in Singapore
1997 Exhibition of Contemporary Artists from Korea & India
1982 Participated in All India Drawing Exhibition, Chandigarh
1992 Participated in National Exhibition of Art, Jaipur
1978 Participated in Aakaar Art Gallery, Chandigarh
AWARDS
1999 Senior Art Fellowship in Painting by Government of India

1998 Sahitya Kala Parishad, New Delhi
1992 Rajasthan Lalit Kala Akademi, Jaipur
1982 All India Fine Arts Craft Society, New Delhi
1978 Fellowship in Printmaking by Lalit Kala Akademi, New Delhi
Share this