Zwe Mon
By South Asian Art Gallery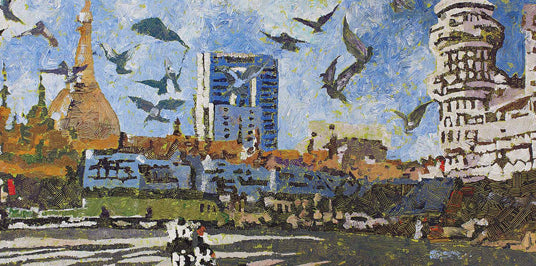 Zwe Mon was born in 1990, and attended the Yangon School of Fine Art. She soon developed an interest in texture. She has experimented with adding texture to the paint itself, and contrasting or harmonising the treatment of the paint with the subject of her paintings.
Zwe Mon's interest in social and political issues shows in many of her paintings, some of which have a theme of education, protest, or the lives of the hard-working poor. However, she is also known for a series of light-hearted self-portraits.
Her work has been exhibited in Hong Kong and Singapore, as well as regularly being shown in Myanmar.
Zwe Mon delivers Zen on canvas. His calm landscapes and pagodas against still skies are extremely striking and elegant. His works are best enjoyed in solitude. The strokes and colors are quite mature and lend an air of austere beauty to his works.
To see artworks by Zwe Mon, click here
Share this