Get More Information about the Art.
S. H. Raza
Aavartan
We provide a Certificate of Authenticity with all artworks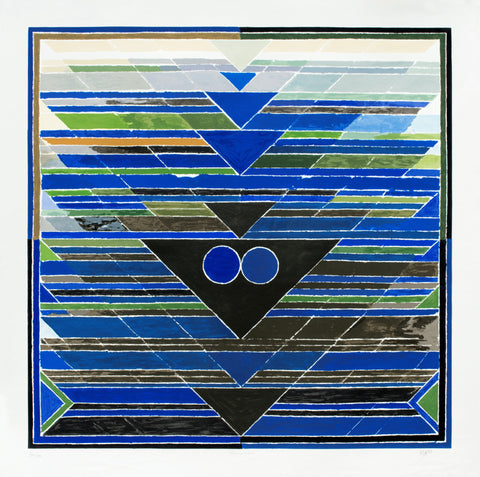 About the Art
Limited Edition Serigraph printed in 66 colors on archival paper. This serigraph was published in an edition size of 100. This item will be shipped unframed, in a roll. The paper size is 60 x 60 inch, Image size is 53 x 53 inch. The print is signed by the artist and comes with a certificate of authenticity.
Aavartan typically means repetition. Inverted triangle is symbolic of the yoni/prakriti or the feminine aspect of the cosmos, and is believed to be the ultimate bearer of life. Raza believed black as the mother colours and these inverted triangles painted in black, further highlights the concept of germination or creation. Here the blue and black inverted triangles seem to spread upwards and downwards from the central triangle, as if multiplying themselves of their own volition.
The Vastu-sutra Upanishad, Sutra 16 mentions that 'the inverted triangle is water' and Sutra 21 mentions that horizontal lines have the nature of water. Thus signifying the blue horizontal lines to be the female entities.
The budding of life is further highlighted with two Bindus in blue and black, symbolic of the polarity in nature, the male and female entities, coming together for creation of life.