Get More Information about the Art.
S. H. Raza
Asto Maa...
We provide a Certificate of Authenticity with all artworks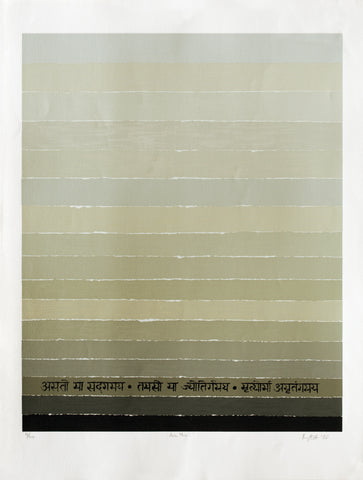 About the Art
Limited Edition Serigraph printed in 40 colors on archival paper. This serigraph was published in an edition size of 100. This item will be shipped unframed, in a roll. The paper size is 40 x 30 inch, Image size is 33 x 26.50 inch. The print is signed by the artist and comes with a certificate of authenticity.
 Astomaa… 
astomāa sat gamaya,
tamasomājyotirgamaya,
mṛtyormāmṛtaṃgamaya
This translates to:
Lead me from falsehood to truth,
Lead me from darkness to light,
Lead me from death to the immortality.
These three statements are referred to as the three Pavamana Mantras. The Sanskrit term sat, which means 'what exists is real', has a range of important religious meanings including 'truth' or 'the Absolute Brahman'. The passage immediately following the mantra explicitly identifies the unreal and darkness with death and the real and light with immortality, saying that all three portions of the mantra have the same meaning of 'make me immortal'.
Astomaa of Raza is significantly reduced to white, black and mere shades of grey. It is drained of all other colours and is enriched by its purity, creating a uniformity which reduces all the dramatic experiences to light and darkness. Here black becomes dense, and the white luminous as the single moment of truth, and shades of grey symbolic of this transition towards light and peace.