Get More Information about the Art.
S. H. Raza
Bindu and Earth
We provide a Certificate of Authenticity with all artworks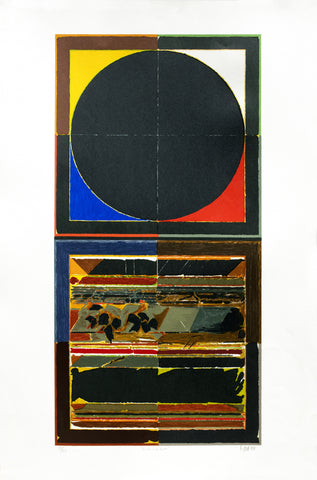 About the Art
Limited Edition Serigraph printed in 65 colors on archival paper. This serigraph was published in an edition size of 100. This item will be shipped unframed, in a roll. The paper size is 40 x 26 inch, image size is 33 x 17 inch. The print is signed by the artist and comes with a certificate of authenticity. 
For Raza, colour black held immense meaning and potential. To him, it was the 'mother colour' from which all other hues were born. The upper half of this work has a black bindu and areas around it represent five fundamental elements of nature, and their equal divisions represent the balance in the nature.
The lower half of the canvas represents the zenith of Raza's engagement with gestural brushwork and the primary palette that expressed the earthiness of his native land. Here, the yellows and greens along with black and white reflect the Central Indian landscape that was Raza's home for many years, where he spent most of his childhood.  The format of this work, is also symbolic of one exploring the depths of the cosmos, yet having a strong foothold to their roots and memories.