Get More Information about the Art.
S. H. Raza
Bindu Bija - Mantra
We provide a Certificate of Authenticity with all artworks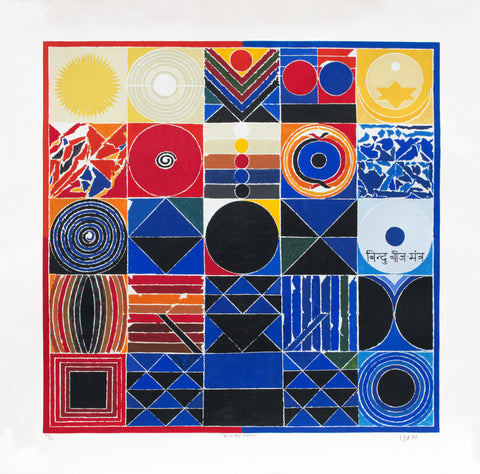 About the Art
Limited Edition Serigraph printed in 65 colors on archival paper. This serigraph is published in an edition size of 100. This item will be shipped unframed, in a roll. The paper size is 60 x 60 inches. Image size is 49.5 x 50 inches. The print is signed by the artist and comes with a certificate of authenticity.
1970s onwards, the bija or Bindu in Raza's works symbolized both the starting and ending point of the cosmos. Here the visual journey begins outwards, dissipating from the central black Bindu and goes through the journey of elements of life, germination and creation. Raza explains that at the heart of his unique visual vocabulary lie the five key symbols of life namely fire, water, earth, wind and sky, all closely woven together with the key components of the cosmos, such as female energy, germination, polarity etc.
A five foot square fragmented into twenty five panels, this work incorporates elements of creation, potential germination and their variations using both male and female entities, such as Prakriti- Purusha represented using the downward and upward triangles, an elongated Bindu with pointed ends signifying the Yoni and the coiled serpents or Kundalini ,both representing female polarity; the Panchtattva,the sun and lastly the Bindu or variation of Bindu resonating concentric rings, symbolic of movement, creation.