Get More Information about the Art.
S. H. Raza
Earth
We provide a Certificate of Authenticity with all artworks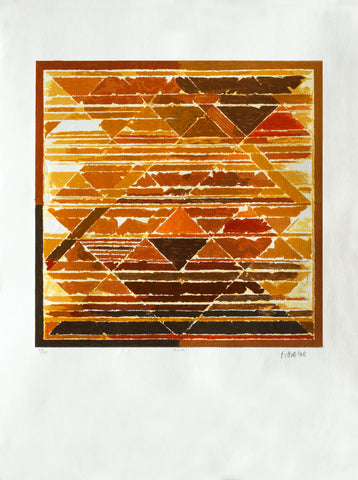 About the Art
Limited Edition Serigraph printed in 37 colors on archival paper. This serigraph was published in an edition size of 100. This item will be shipped unframed, in a roll. The paper size is 40 x 30 inch, Image size is 24 x 24 inch. The print is signed by the artist and comes with a certificate of authenticity.

For Raza, nature always remained a primary source, indeed the only source of inspiration. He recalled from his childhood, the dark dense forests of Madhya Pradesh, the brilliant sun over scorched villages, the parched earth, the rivers and the mountains.

This work is controlled network of intersecting lines and planes, with colours that are predominant related to the earth: graduated sienna, yellow ochre, reds and browns. These colors are juxtaposed along with the bright light yellow on the edges, illuminating the work with the heat of India, his native land. Even the networks of intersecting triangles that are formed by his diagonals are reminiscent of the rocky terrains of Central India.