Get More Information about the Art.
S. H. Raza
Encounter
We provide a Certificate of Authenticity with all artworks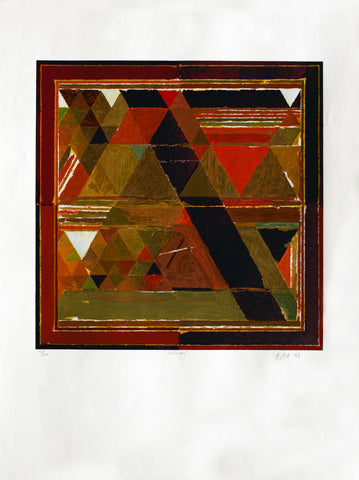 About the Art
Limited Edition Serigraph printed in 72 colors on archival paper. This serigraph was published in an edition size of 100. This item will be shipped unframed, in a roll. The paper size is 40 x 30 inch, Image size is 24 x 24 inch. The print is signed by the artist and comes with a certificate of authenticity.


With Raza, the Indian experience was of a different order. It did not serve to liberate but to bind – to return him to the sources which he had once known; to shapes and colours experienced at an early age. For him these forms were not a novelty with which to experiment, but primordial forms which he could only replicate to capture the essence of India.

He returned to the heart of the country which was his own, to the interiors of the vast state called Madhya Pradesh when he was born and nurtured of the soil. All these vivid childhood memories of the terraneous Central India and memories from his visits in 1959 and 1962 are retrieved as fragments of his rendezvous in this work, thus aptly giving it the title of 'Encounter'.