Get More Information about the Art.
S. H. Raza
Jaipur
We provide a Certificate of Authenticity with all artworks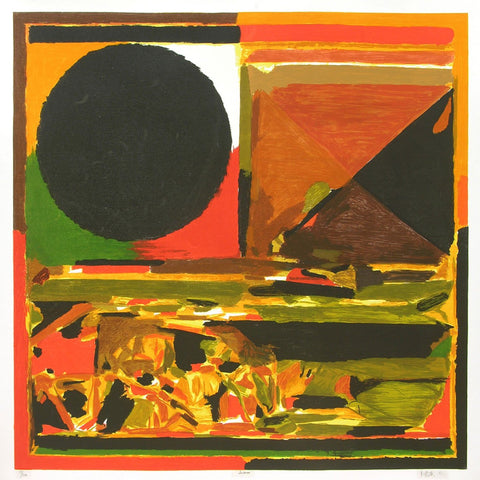 About the Art
Limited Edition Serigraph printed in 29 colors on archival paper. This serigraph was published in an edition size of 100. This item will be shipped unframed, in a roll. The paper size is 60 x 60 inches, image size is 54 x 54 inches. The print is signed by the artist and comes with a certificate of authenticity.

For Raza, nature always remained a primary source, indeed the only source of inspiration.

In this piece, Raza explicitly recalls seventeenth century miniatures from Malwa and Mewar in Rajasthan whose colours and structure deeply influenced his work.

The color and construction of this piece also shows the transition between Raza's gestural phase and the emergence of bindu in his work. Here, his expressionist strokes are limited to the lower panel of the canvas, predominantly in yellow lines, red and sienna further highlighted by large patches of green representing vegetation. The upper two quadrants have a more controlled network of intersecting triangles and strong horizontal bands of colours. The bindu and the colours adjacent to it convey the five fundamental elements of life – earth, water, fire, sky and air. The frame that encases these panels is both reminiscent of traditional miniature painting and indicative of Raza's shifts towards geometric symbology.