Get More Information about the Art.
S. H. Raza
Kriti Prakriti
We provide a Certificate of Authenticity with all artworks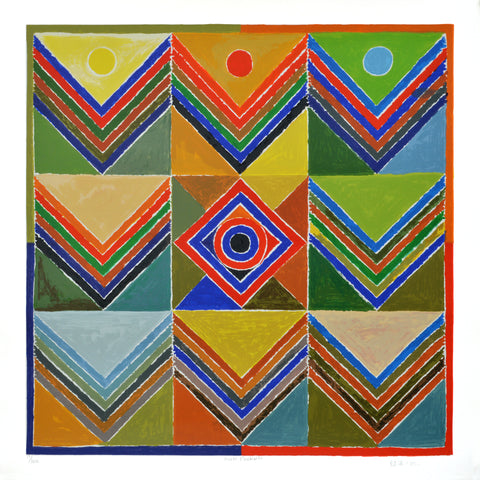 About the Art
Limited Edition Serigraph printed in 58 colors on archival paper. This serigraph was published in an edition size of 100. This item will be shipped unframed, in a roll. The paper size is 40 x 40 inch, Image size is 35.5 x 35.5 inch. The print is signed by the artist and comes with a certificate of authenticity.

Kriti meaning creation and Prakriti meaning the conditions at the beginning of the creation or the natural state of existence.

Bija or Bindu symbolizes both, the starting of the creation and the creation itself, Kriti – Prakriti. Symbolic of the Raza's fixation on the conception of germination or ankuran, here the bija is encased within a diagonally fashioned square, which is visually made of up two triangles, one pointing upwards, which represents Purusha or the male forces; other pointing downwards, symbolic of Yoni or the female energies of the universe. It is in the union of these two opposites that bija thrives, and further pollinates, to the rest of the canvas, which consists of number of inverted triangles, seemingly ready to bear further creations/germination.