Get More Information about the Art.
S. H. Raza
Kundalini
We provide a Certificate of Authenticity with all artworks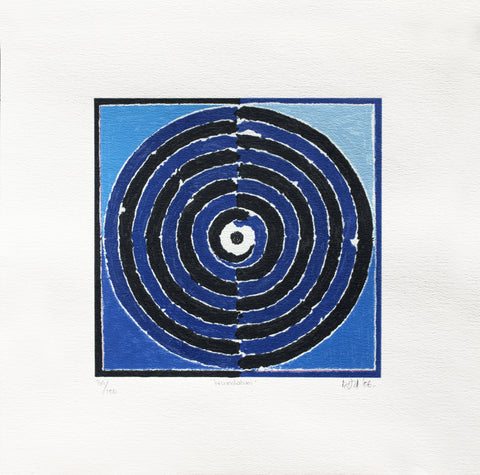 About the Art
Limited Edition Serigraph printed in 25 colors on archival paper. This serigraph was published in an edition size of 100. This item will be shipped unframed, in a roll. The paper size is 20 x 20 inch, Image size is 12 x 12 inch. The print is signed by the artist and comes with a certificate of authenticity.

Kundalini, meaning 'the coiled one' in Sanskrit, is usually represented by a curled serpent lying at the base of the spine, yet to be awakened. Here the coil of painted circles in a Kundalini format symbolizes this primal source of energy. The rings spreading out resonate the vibrating forces and shows the snakes lying coiled in anticipation of the animation to soon bestow on creation. As the serpents are anticipating to be awakened but not yet awakened, the cool colour scheme of the blues and black have been used, creating harmony, instead of evoking the fire and passion of the 'Kundalini Awakening'.