Get More Information about the Art.
S. H. Raza
Panchtatva
We provide a Certificate of Authenticity with all artworks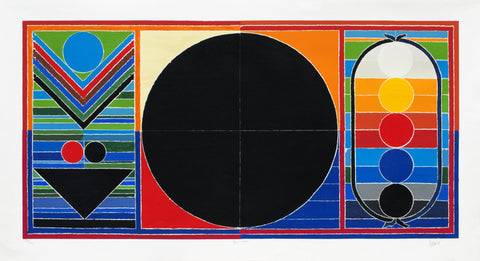 About the Art
Limited Edition Serigraph printed in 52 colors on archival paper. This serigraph was published in an edition size of 100. This item will be shipped unframed, in a roll. The paper size is 40 x 74 inch, image size is 33.5 x 67 inch. The print is signed by the artist and comes with a certificate of authenticity.

Panchtatva meaning the five fundamental elements of life: Bhoomi (earth), Jala (water), Agni (fire), Vayu (air) and Akasha(sky). The colors representing these primarily make up his color palette (black, red, blue, yellow and white).

The black bindu placed in the centre of this work represents the concentration of all the energy and creation, and the four coloured areas surrounding the bindu, represent these elements of nature, and their equal divisions represent the balance in the nature. Further the left panel houses all the female elements of nature (or the Prakriti), such as an inverted triangle, representing germination and budding of life, further two Bindus in red and black placed on top of the inverted triangle is symbolic of the polarity in nature, the male and female entities, coming together for creation of life. In the right panel, the artist alludes the male aspect of nature (or the Purusha) using a variation of the Bindu, an elongated oval, housing five coloured bindus. All these colored Bindus represent five fundamentals of life and their individual representations in forms of Bindus, symbolize that they are their complete and balanced individual entities.