Get More Information about the Art.
S. H. Raza
Panth
We provide a Certificate of Authenticity with all artworks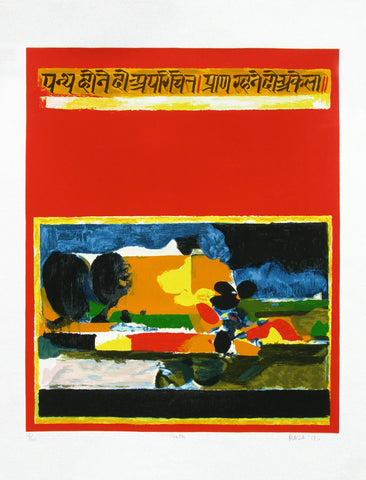 About the Art
Limited Edition Serigraph printed in 24 colors on archival paper. This serigraph was published in an edition size of 100. This item will be shipped unframed, in a roll. The paper size is 40 x 30 inch, image size is 32 x 26 inch. The print is signed by the artist and comes with a certificate of authenticity. 
Let the path be unknown; let the heart be left in solitude.
From the 1960s and early 70s, when he was nearing fifty, Raza's works were impregnated with a sense of double identity. Two distinct parts to this vertical work emphasize the demarcation of two divided spaces in the mind. In the upper half, against the vacuum of red space, are inscribed in devnagari script the beginnings of a poem in Hindi.  The lower half of this work opens up to almost another world – exploding into colours, worked in ochres, greens, blues and crimson red, the treatment largely being gestural brushwork.