Get More Information about the Art.
S. H. Raza
Prem
We provide a Certificate of Authenticity with all artworks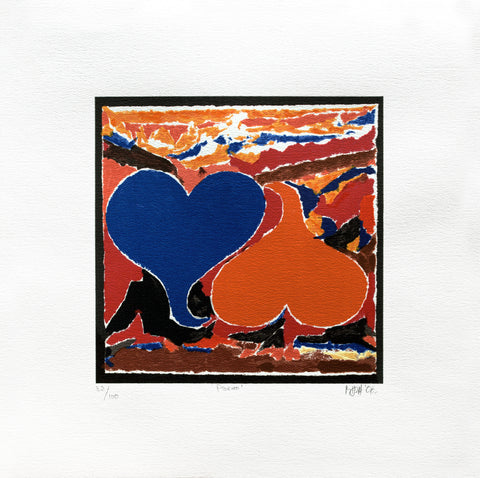 About the Art
Limited Edition Serigraph printed in 35 colors on archival paper. This serigraph was published in an edition size of 100. This item will be shipped unframed, in a roll. The paper size is 20 x 20 inch, Image size is 12 x 12 inch. The print is signed by the artist and comes with a certificate of authenticity. 
A rasa literally means essence. It also connotes an ancient concept in Indian arts about the aesthetic flavor of any visual, literary or musical work, that evokes an emotion or feeling in the reader or audience, but that cannot be described. 
This work has the essence of all the things that inspired Raza and his works. It has various elements of spiritual importance and Hindu cosmology, such as the bindu, the sun, coiled serpents- Kundalini, the polarity in the universe, the Panchtatva, jaapmala or meditation (depicted using Aum), etc. Here, Raza has not only presented the elements and their variations, that pretty much make up the body of his works (post 1970s), but also the influences that led him to this shift, such as the sketch of a woman's forehead with a bindu and the eye.