Get More Information about the Art.
S. H. Raza
Saurashtra
We provide a Certificate of Authenticity with all artworks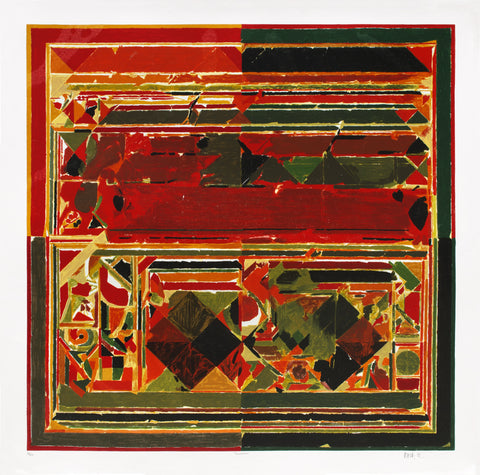 About the Art
Limited Edition Serigraph printed in 28 colors on archival paper. This serigraph was published in an edition size of 100. This item will be shipped unframed, in a roll. The paper size is 60 x 60 inch, image size is 54 x 54 inch. The print is signed by the artist and comes with a certificate of authenticity.
A seminal work, 'Saurashtra' by Raza was done in the early '80s suggesting a blend of his two distinctive styles of paintings, one being his gestural strokes, and other being his Abstractionism. The format of this work, and the virtual frame that encases the work reminds us of the seventeenth century miniature paintings of Rajasthan, filled using a wide spectrum of warm colours, such as ochre yellow, saffron, crimson red, burnt sienna, pale greens and black, all collectively narrative of hot, dusty and vegetative India. Lower half of the canvas has more controlled and short brush strokes and network of intersecting triangles whereas the upper half has wider and thicker patches of shades of sienna and green.