Get More Information about the Art.
S. H. Raza
Shanti Bindu
We provide a Certificate of Authenticity with all artworks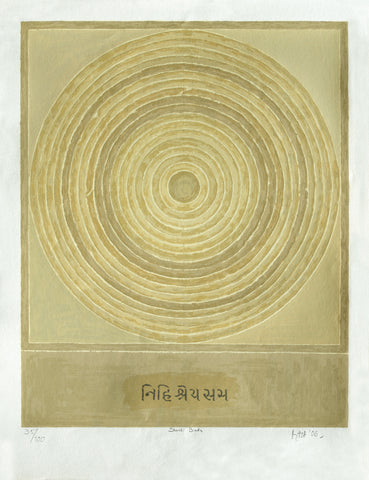 About the Art
Limited Edition Serigraph printed in 23 colors on archival paper. This serigraph was published in an edition size of 100. This item will be shipped unframed, in a roll. The paper size is 40 x 31 inch, image size is 33.50 x 27.50 inch. The print is signed by the artist and comes with a certificate of authenticity.
"I think painting is a sort of prayer and that it should emerge from within as a sort of inner necessity." Raza says.
There is no pulsing black bindu resonating with energy here. Instead it is replaced by soft earthy tones, releasing the peaceful concentric rings, in shades primarily towards whites, seemingly spinning out towards white light. Here the bindu has shed its relation with any of the sinister, violent implications to re-emerge as ethereal and calm.