Get More Information about the Art.
S. H. Raza
Surya and Naga
We provide a Certificate of Authenticity with all artworks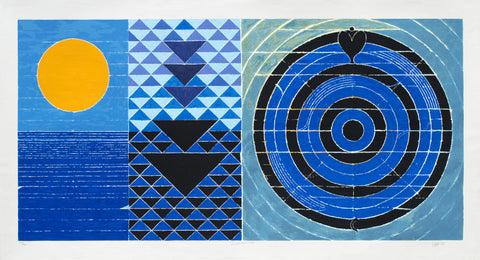 About the Art
Limited Edition Serigraph printed in 43 colors on archival paper. This serigraph was published in an edition size of 100. This item will be shipped unframed, in a roll. The paper size is 40 x 74 inch, image size is 34 x 68.5 inch. The print is signed by the artist and comes with a certificate of authenticity.

This work incorporates elements that suggest potential germination, creation, re- birth and life. On the left panel, the bindu in ochre yellow is the sun – the energizing, life- giving source, complemented by its counterpart, that is the blue horizontal lines symbolic of water, which according to Raza, is a feminine entity, thus representing the life bearing element.
The central vertical panel, consisting of black inverted triangles pointing downwards, symbolic of the yoni or the womb bearing life, paired with their counterparts – upward triangles, collectively reverberating with potential germination of life.

The right square represents the coiled serpent/Naga, symbolic of rebirth, rejuvenation and cycle of life. Further a dot inside expresses male and female polarity. In Hinduism, the midpoint in a circle, is the bindu - a spark of life (masculine) within the cosmic world. The female entity is considered to be the ultimate bearer of life, and the purusha just participating.