Get More Information about the Art.
S. H. Raza
The Village
We provide a Certificate of Authenticity with all artworks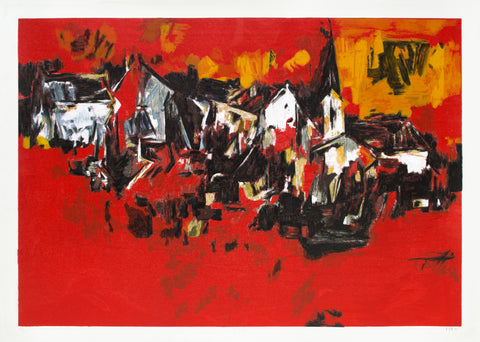 About the Art
Limited Edition Serigraph printed in 18 colors on archival paper. This serigraph was published in an edition size of 100. This item will be shipped unframed, in a roll. The paper size is 60 x 84 inches, image size is 54 x 78 inches. The print is signed by the artist and comes with a certificate of authenticity.

The image of Raza's work after 1953 is difficult to define. His paintings still showed houses, trees, spires, and other elements of landscape emerging out of colors, which are their true essence. During this period the subject was irrelevant but the image persisted, creating the experience of the scene only using colors in gestural brushwork. Here the artist suggests a French provincial town bathed in sunlight, with few white houses, discernible against the vegetation on the slope against the red background. Through its burning red sky and autumnal colors sparsely spread across the entire work, it tells of new spontaneity and raw energy and style informing the influence of French Expressionism.