Get More Information about the Art.
S. H. Raza
Untitled
We provide a Certificate of Authenticity with all artworks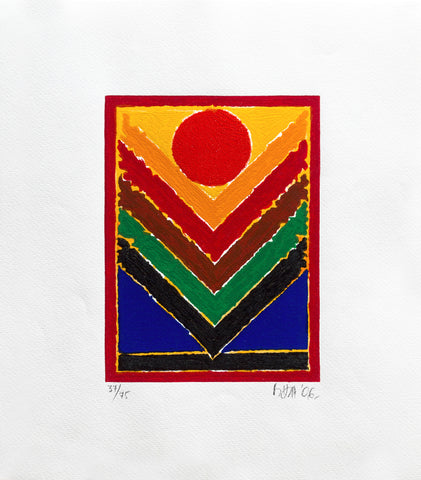 About the Art
Limited Edition Serigraph printed in 9 colours on archival paper. This serigraph was published in an edition size of 75. This item will be shipped unframed, in a roll. The paper size is 15 x 13 inch, Image size is 9 x 6.50 inch. The print is signed by the artist and comes with a certificate of authenticity.

The elements of this painting point to nature both as we see it and as the essence of reality. A red circle set against a yellow backdrop resembles the rising sun. And the triangular structures simulate the spreading of branches of the tree. Also metaphorically, the red circle is bindu, the life giving source, or the primal seed and the triangles are motifs of the female fertility - the yoni or the womb.