Get More Information about the Art.
S. H. Raza
Village
We provide a Certificate of Authenticity with all artworks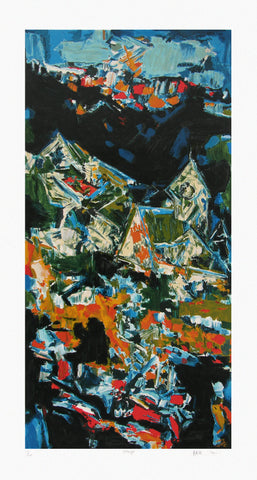 About the Art
Limited Edition Serigraph printed in 29 colours on archival paper. This serigraph was published in an edition size of 100. This item will be shipped unframed, in a roll. The paper size is 60 x 32 inch, image size is 53 x 26 inch. The print is signed by the artist and comes with a certificate of authenticity. 
This work captures the feeling of the twilight hour in the French Country side. Using a palette predominated by blue, grey and black tones, this work conveys  the elusive mood that inspires an atmosphere both of  longing and fulfillment, of loneliness and romance. As the night begins its descent on the hillside, little pockets of white remain contesting the approaching dark for as long as they can. The juxtaposition of light and dark in this painting speaks of the significance Raza gives to opposing forces like day and night, and the green pockets representing the vegetation of the French countryside, both showing his personal understanding of nature and universe.