Get More Information about the Art.
S. H. Raza
Yatra Naryastu
We provide a Certificate of Authenticity with all artworks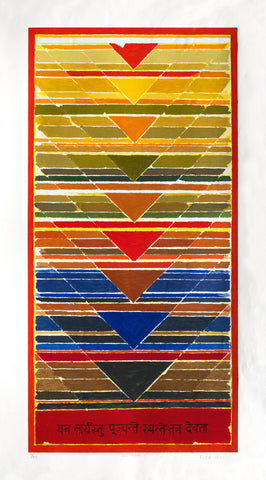 About the Art
Limited Edition Serigraph printed in 85 colours on archival paper. This serigraph was published in an edition size of 100. This item will be shipped unframed, in a roll. The paper size is 54 x 30 inch, image size is 48 x 23.5 inch. The print is signed by the artist and comes with a certificate of authenticity. Yatra Naryastu pujyante, Ramante tatra Devata.. Translates to : Where women are respected, Gods make their home. Looking at Raza's large body of works, one may realize that bindu is not the only recurring element in his works. Raza has largely celebrated female fertility and female entities of nature, is his works, with a variety of shapes, symbols and colours. Here, he has stacked inverted triangles one on top of other, all pushing downwards that evokes budding of life. Many cultures consider female womb as the ultimate bearer of life or seed, one of them being the tantric philosophy. Bija/seed is considered as the nucleus of all the creation of cosmos, so is Brahma. As discussed earlier, the female yoni or womb bears the bija, nourishes it, and further evokes germination.