Abdul Salam
By South Asian Art Gallery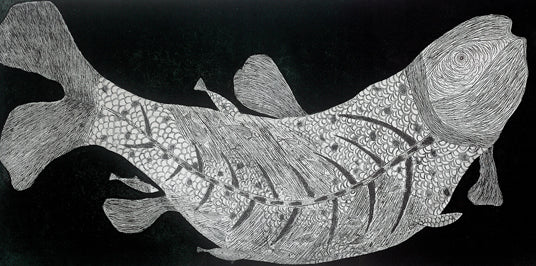 Abdul Salam is a print maker turned artist. Having had a solid background in printing, he has intimate knowledge of material and ink. He can be termed sagacious for his understanding of colours, ink and textures. His printing background also helps him bring together two seemingly opposite colours, textures or processes and put it together in a stunningly meaningful way.
Abdul Salam is a naturally gifted artist. How his mind has been preoccupied and engulfed by the precarious condition of the society we live in comes out unconstrained in his works. His depiction of the fish is a fine example of this. Involving etching and aquatint, it is a vivid visual parable of a world in turmoil. In the artists own words, "Fish is a staple item that people of the region consume like a sweet during every meal. Through globalization and local politics leading to scarcity, it has turned to skeletal remains. And the taste has receded into liquid darkness."
He has held his solo shows in Jehangir Art Gallery, Mumbai (2014) and 2006 Aurodhan Art Gallery, Pondicherry (2006). He has also participated in a large number of group shows with other prominent artists across India.
Abdul Salam has also been the recipient of many honours and awards from several art academies and art societies across India. The artist also loves imparting his skill and knowledge to others and is a keen and active participant in art camps both his own and those organized by art galleries and art colleges.
To see artworks by Abdul Salam, click here
QUALIFICATION
Trained in Print Making
SOLO SHOW
2014 Jehangir Art Gallery, Mumbai
GROUP SHOW
2013 Jehangir Art Gallery Mumbai 2013 Meraj Art Gallery Kolkata 2012 Lalit Kala Acadimy Regional Center Bhubanwsar 2012 Aakriti Art Gallery, Kolkata 2012 Time & Space Gallery, Bengalor 2011 Lalit Kala Academy, New Delhi 2011 Habited Center, New Delhi 2011 Academy of Fine Arts, Kolkata 2009 Jehangir Art Gallery 2009 Academy of Fine Arts 2007 Lalit Kala Academy, New Delhi 2006 Mumbai Art Gallery Mumbai 2006 Chitrakala Parishad, Bangalore 2009 Kala Kriti Art Gallery, Hyderabad 2010 Town Hall Kalkata, 2010

AWARDS
2014 Annual Exhibition Indian Royal Academy 2013 Annual Exhibition All India Fine Art & Craft Society (AIFACS) 2012 Annual Exhibition Academy of Fine Arts, Kolkata 2011 Annual Exhibition Academy of Fine Arts Kolkata 2009 All India fine arts and Crafts Society, Delhi (AIFACS) 2009 Annual Exhibition Rajya Charukala Parishad, Kolkata. 2006 West Bengal State Academy visual arts Kolkata 2006 Indian Society of oriental arts Kolkata 2006 Academy of Fine Arts Kolkata Certificate of merit. 2006 South Central Zone Cultural Centre Nagpur, Certificate of Merit.
Share this