Achutan Kudallur
By South Asian Art Gallery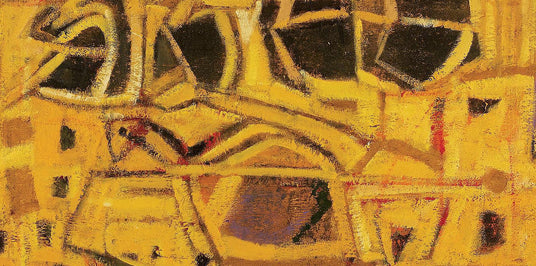 Achutan Kudallur. Civil Engineer and hobbyist writer. Today one of India's top-notch artists. Coming from a family that religiously follows Gandhian values and the preaching's of the great Ramakrishna Paramahamsa and Swami Vivekananda, it is no wonder his art is exciting, energetic and yet tranquil, the very qualities practiced and preached by these great men.
Achutan's works are a study in contrast. Where there is a joyous riot of colors in one frame, there is total melancholy and sometimes even tragedy, in the next. To communicate so much through a non-figurative style is quite a feat in itself. That said, his oils are never about any conversation, they do not involve in dialogues with the viewer. They are just a communion of colors yet there is no riot, just a unique sense of calm. The colors work on the mood of the viewer. An Achutan oil has the innate ability to be whatever you want it to be – in an ethereal sense. Besides being rated as one of India's topmost artists, Kudallur has a huge collection of portrait and illustrations for his own stories, which have been published in prominent fortnightly magazines.
So said the artist of himself, "Colors spread by its own logic. The problem starts when you begin to depend on certain shapes. It is like discovering an entire notation for a new language. A very personal vocabulary begins to evolve. It communicates very little, sometimes nothing! My works are my confession of my despair."
Each Kudallur painting takes a color as its inspiration. He describes each painting with affection as 'his blue' or 'his red'. While his work is oddly instinctive and emotional, it is always visually complex. Almost a self-taught artist, Achuthan has never traveled the beaten track. Each of his canvases has remained a journey exploring proactively his perceptions, feelings, and sentiments and translating them through the use of color. With a subtle play of color, his work is evocative and reflective of the varying shades of human emotion.
A recipient of the National Academy Award and Tamil Nadu Lalit Kala Akademi Award, Achutan is a widely traveled person. Apart from sixteen solo shows all over India, sponsored by major art galleries and institutions, he has been part of most important juried and curated group exhibitions, such as Sothebys India sale in London, New South Delfina Gallery, London, Homage to Arthur Rimbaud in India and France and Heart Intuitive Logic Exhibition.
He has to his credit several institutional commissions including Air India, Mumbai. His works are part of several individuals and institutional collections like the National Gallery of Modern Art, New Delhi, Air India, Glenberra Museum, Japan, and with other collectors in India and abroad.
To see artworks by Achutan Kudallur, click here
EDUCATION
Self-taught artist
SOLO SHOWS
2010 'Black is Beautiful', India Fine Art, Mumbai
2009 'Indian Harvest', presented by Crimson - The Art Resource, Singapore
1995 British Council Division, Chennai
1983 Alliance Francaise Art Gallery, Chennai
1981, 86, 88, 93, 2003 Jag, Mumbai
1979, 80 LKARC, Chennai
1977 MMB, Chennai
Has held numerous shows at Mumbai, Chennai, Bangalore and all over India, sponsored by major art galleries and institutions.
GROUP SHOWS
2009 'Deep In Black', Galerie Muller and Plate, Munich
2007 Chawla Art Gallery, New Delhi
2006 'Chennai Excite', The Noble Sage Art Gallery, London
1999 South Indian Arts & Crafts Exhibition, Dubai
1998 Gallery Maya, London
1997 Mareechika Art Gallery, London
1996 'Madras and Emotion', Values Art Foundation, Chennai
1995 Maya Art Gallery, Hong Kong
1993 Jehangir Art Gallery, Mumbai
1992 Arts Acre Invitees, Kolkata
1990 Sakshi Gallery, Chennai
1989 Third Asian Art Show, Fukowa, Japan
1982-89 National Exhibition, New Delhi
1979 Lalit Kala Academy, Karnataka
1976, 77, 74 Academy of Fine Arts, Kolkata
AWARDS & HONOURS
2001 Served as the Commissioner for the X Indian International Triennial
1988 National Academy Award
1982 Tamil Nadu Lalit Kala Academy Award
Share this